Welcome to the Round Table for True Blood Season 7 Episode 2, where we will discuss the fates of these fine folks: Tara, Sookie, Alcide, Bill, Arlene, Holly and Eric. 
Join TV Fanatics Carissa Pavlica, Chris O'Hara and Leigh Raines in the following conversation and jump in to the debate below...
----------------------------------------------
What was your favorite scene from the episode?
Carissa: I actually enjoyed what went down with Arlene and Holly, especially after they realized one of their captors was a beloved teacher. They're comically on target there. However. Jason and Eric. Just sayin.
Chris: Jason's pizza forensics and the look Andy gave him when he took that first bite was it for me. Look out Rust and Marty, there's a new True Detective on the block.
Leigh: Jason Stackhouse is just slaying it this season. I have to go with the cold opener. Was so excited to see our long lost viking's beautiful face.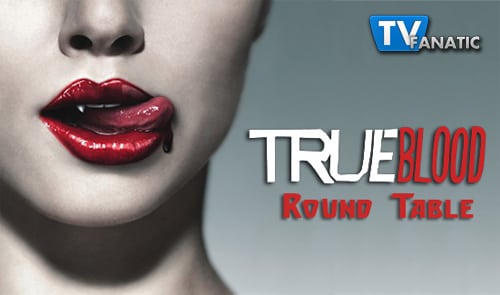 Did Tara's mom kill Tara?
Carissa: You know, I've never really been a Tara fan, but Tara's mom should never have been introduced. She brought nothing to the show overall and continues to deliver just that. Does it matter if she killed her? She's pointless no matter what she does. I'm more worried about Willa protecting her weird ass.
Chris: I think she all but confessed to Lafa when she went scavenging for some V. "I took care of my baby the way I was always meant to do."Chris: I agree with Carissa that they seemed to be steering toward a Sookie/Bill reunion. To be honest though, my overall interest is "meh." I care more about how Eric and Pam end up.
Leigh: I feel like I express the amount of hatred I have for Lettie Mae on a regular basis. Tara's death was off screen for a reason.
Will Sookie end the series with Bill, Alcide or someone else?
Carissa: It sure seems like the series was promoting Sook & Bill as endgame last night. My preference would be with Alcide, but she's about as happy with "normal" as Cat on Beauty and the Beast. Sookie wants adrenaline and the life she recalled reading the diary, so similar to what others have experienced with their own vamps.
Chris: I agree with Carissa that they seemed to be steering toward a Sookie/Bill reunion. To be honest though, my overall interest is "meh." I care more about how Eric and Pam end up.
Leigh: Oh she's TOTALLY ending up with Bill. Don't worry Alcide, I'll comfort you!
Is there any hope for Arlene and Holly?
Carissa: Yes. They are so resourceful. Arlene noticing the teacher and using it to their advantage made their situation bearable (as a viewer). They're best when being kooky. They'll figure it out, but they might need more captives to tide over the rabids.
Chris: Arlene has taken up the leadership role in this crisis. While she delivered one of her best episodes to date, I fear she will be in the line of fire and possibly lose her life to set the others free.
Leigh: They might hang on for a few episodes but I think everyone on this show is on their way out. Last season is going to take its toll.
Eric is back... and infected! REACT!
Carissa: It makes perfect sense, doesn't it? He wanted to escape his world and in doing so opened himself up to all of the horrors that come with doing so. I could see he and Pam steering clear of Bon Temps for the entire season, him dying in her arms. I don't think that's such a bad way to go.
Chris: Escape his world? Eric has lived everywhere. Poor guy just wanted to catch up on some reading and work on his tan. Seeing Eric's hep-v road map on his chest was a crusher as noted by the tear of blood than ran down Pam's face. I'm worried for Jessica as well, who was not healing like she should have been. All the best characters don't have to die. If all we're left with is Sookie and Bill at the end of the series I am going to be none too happy.
Leigh: I'm not even ready to talk about this. Eric is the strongest person on that show. Or at least he was. We're screwed.
Carissa Pavlica is the managing editor and a staff writer and critic for TV Fanatic. She's a member of the Critic's Choice Association, enjoys mentoring writers, conversing with cats, and passionately discussing the nuances of television and film with anyone who will listen. Follow her on Twitter and email her here at TV Fanatic.