Firefly Review: The Hero of Canton
Robin Harry at . Updated at .
One of my favorite episodes of Firefly is "Jaynestown," Firefly Season 1 Episode 7.  
The crew travels to Canton, a smelly clay-making town, in order to pick up some goods. Unbeknownst to them, however, Jayne been to that town before, and has been heralded a folk hero there due to a misunderstanding.  
Most of the fun is seeing the crew react to Jayne's hero status in Canton. Simon's disbelief and Wash's amusement are both hilarious. Then there's that song. Every time I watch this episode, the Ballad of Jayne Cobb gets stuck in my head. "The hero of Canton, the man they call Jayne...."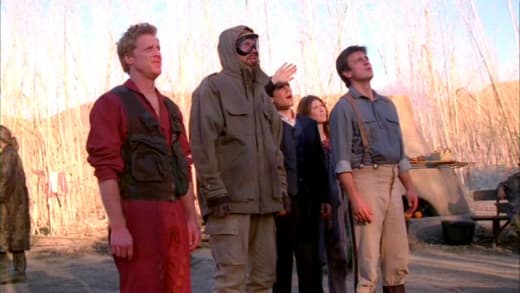 Jaynestown is by far the funniest episode of Firefly, but it still manages to handle a lot of serious subject matter among all the fun. 
BELIEF & FAITH
One of the things I love about Firefly is how it respectfully addresses differing views of faith, a feat that many shows spectacularly fail on. No one is portrayed as being less intelligent or less of a person for their stance on faith or religion, and this is never more evident than in Jaynestown. The theme of faith is addressed in both the main story and in the side story of River and Book on the ship.
In the main story, Jayne is heralded as a hero in the town for stealing money and giving it to the poor workers (or mudders) of the town. The townsfolk, however, are unaware that their receiving of the money was a mistake; Jayne had to jettison the crate with the money in order to escape the town magistrate. Even worse, to escape, Jayne jettisoned his partner before he threw out the money.
Even after finding all of this out, the mudders still treat Jayne as a hero. One man even took a bullet for him. Jayne doesn't understand this, and Mal aptly points out that the people need to believe in him as a hero.
Mal has generally rejected faith in anything other than his crew, but even he sees the importance and need to others.  Mal understood that the people of Canton needed to believe in a hero that fought for them, because no one else ever has ever given them anything.  Jayne is the only hope they've had, and that's what uplifts them, unites them and keeps them going.
In a similar vein, Book and River discuss faith. River points out the contradictions in the Bible and tries to fix them through science. Book, however, doesn't argue about whether she's right or wrong, but points out that the importance of the Bible is not its accuracy, but the faith it fosters and the drive it gives you to be a better person.
River comes to understand the Bible not as a literal rule-book of the Shepherd's faith, but as a symbol of it, noting that when the pages were torn out (i.e. out of context), they just became paper. 
 
EXPECTATIONS VS SELF-IDENTITY
Another theme that is explored in this episode is the struggle to be yourself amid the expectations of others.  This was explored in yet two other side stories in this episode: Simon and Kaylee's romantic tension, and Inara's job of the week. 
Inara is hired to deflower a young man named Fess, the son of the local magistrate.  Fess is struggling with his father's expectations and misguided definitions of manhood, and it isn't until after his encounter with Inara that he feels at liberty to make his own decisions. 
Similarly, Simon is having trouble with his attraction to Kaylee, as they both have different expectations of how one should behave out in the black.  Simon feels the need to hold on to his proper, high society manners, since that's all he has of his former life.
However, to do so, he has to live with the derision of the rest of the crew.  Mal makes fun of his upbringing, his clothes and his rich appearance.  Kaylee doesn't understand at all why he remains so proper, and his ill-worded attempt at conveying his respect for her earns nothing but her ire and Mal's amusement. 
The beauty of Simon's story is that he doesn't apologize for who he is. As he has been thus far in the series, he's self-aware, and he knows the importance of being himself among all the people who are nothing like him.
OTHER NOTES:
My hair looks exactly like Shepherd Book's when it's let out (minus the grays), so I'm going to bypass the implications of the little white girl being afraid of the black man's hair...because I love this show and the whole thing was nevertheless hilarious.
It seems that every time Simon pisses Kaylee off, something bad happens to him.  Last time he insulted Serenity, he ended up getting kidnapped. This time, he got beat up.  Simon clearly needs to stay on Kaylee's good side.
Not sure which was more fun, drunk Wash or drunk Simon!
MEET THE CAST:
Jayne Cobb is played by none other than Adam Baldwin, a mainstay in the world of sci-fi television. He's also very well known for playing Colonel John Casey in Chuck (one of my favourite shows ever) and Agent Knowle Rohrer in The X-Files. He can currently be seen on The Last Ship as Mike Slattery.
Magistrate Higgins was played by Gregory Itzin, a prolific TV actor whose filmography includes significant roles in The Practice, 24, The Mentalist and Covert Affairs.