After 10 weeks of culinary tasks, live demonstrations and on-camera mentoring, only one challenge stood between the final four contestants and the chance to tape their own pilots for Food Network Star.
To give the selection committee an idea of what their potential pilots might look like, each contestant remaining on Food Network Star Season 10 Episode 10 was tasked with filming a promo spot that showcased their unique culinary point of view.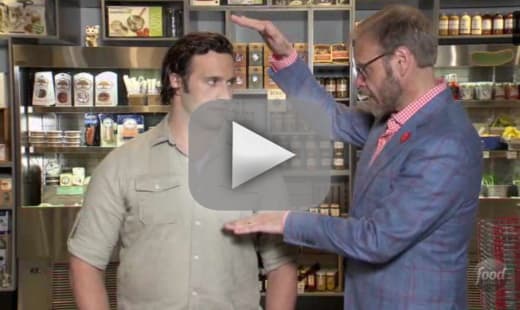 Most likely hoping to capitalize on Food Network's deep pockets, Nicole's promo nodded at the idea of traveling the world to teach at-home viewers the beauty of adding a little coastal cuisine to the menu. The problem?
As Bob Tuschman (the General Manger for Food Network) pointed out, Nicole's culinary background and expertise lies strictly in the coast of America.
Sarah's promo focused on the idea of taking Americans on a food tour of Texas. Coming off far too rehearsed, Sarah appeared inauthentic and unnatural. Her "Lone Star Kitchen" was a great concept, but she wasn't the right leader for it.
Luca received no negative feedback from the judges, who all thought his promo was charming and delightful.
Finally, Lenny spit out anything and everything he could about himself but failed to provide any clear direction or focus regarding his actual pilot. His stiff performance left the committee cold.
With all that in mind, the selection committee greenlit Nicole and Luca's shows first, and in a tense final decision, chose Lenny's pilot over Sarah's. Based off his promo alone, Lenny didn't really deserve the spot, but his overall performance over the past ten weeks, particularly when it came to live demos, was stronger than Sarah's.
Luca. Nicole. Lenny. One of those three will become the next Food Network Star. The only question that remains is...who?
Nicole? Her show, titled "My Coastal Kitchen," would focus on Nicole making dishes inspired by the American coast. Her Lousiana-centric pilot was full of energy and helpful tips. Her fake friends, who showed up at the end to eat her food, was an odd yet quintessential Food Network move, while the rest of her abbreviated pilot truly popped.
Luca? His show, "Luca's Feast," would bring Luca's personal culinary touch and Torino, Italy background to different restaurants rich in tradition. In his pilot, Luca made a bagna cauda at Bocca di Bacco. He sold his dish with great tips and salivating description, but the overall premise of his show was a tad confusing. 
Or Lenny? In his show, "Cowboy Up," Lenny would go to different restaurants and bring his distinctive "gourmet cowboy" cuisine to them and the events they host.  In his mini-pilot, Lenny made his famous coffee crusted bone-in filet for Steve Olsen, of West Bank Café, who needed some great cowboy food for his upcoming cowboy soiree. Lenny looked uncomfortable on camera at times, trying way too hard to get his "cowboy" persona across to the audience.
There you have it. With voting now open, it's up to you to help decide who will become the Next Food Network Star. 
Who do you think should take home the prize?