SPOILER ALERT! SPOILER ALERT!
We have new information on Once Upon a Time Season 4 (along with a new photo, below) and it comes from a very reliable source: ABC itself.
The network has come out with an extended synopsis for fresh fall episodes and it teases a return to the dark side for a fan favorite... a battle between light and dark for another key character... and the debut of a (handsome) new face.
We've highlighted seven key takeaways from the teaser here: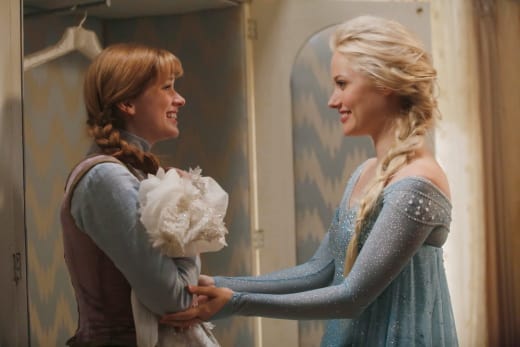 FLASHING BACK: We will discover what happened to [Elsa], her sister Anna and Kristoff, and how and why Elsa became a prisoner of Rumplestiltskin.
WELCOME (BACK) TO THE DARK SIDE: Now that Emma has brought back Robin Hood's wife, Marian, and possibly sparked the end of Regina's relationship with him, will she return to her old, evil ways and do everything in her power to get even.
IS THE HONEYMOON OVER? Belle and Rumplestiltskin continue to be deeply in love with each other. But Rumple is hiding a secret from Belle - one that, if found out, could destroy their happiness: he continues to be the master of the dagger that calls upon him to be the Dark One.
COMMITMENT ISSUES: Can Emma and Hook commit to one another, and can these two damaged people take their love to the next level?
GUILT TRIPPED: Mary Margaret and David will still be "sad that they were not able to do this with Emma, instead helping her escape the curse when she was first born and not meeting her again until she was 28 years old.
FORK IN HIS ROAD: Henry is very happy to have both of his mothers back in Storybrooke. But with biological mom Emma and paternal grandfather Rumplestiltskin's blood running through his veins, he will be tested by both the light and the darkness.
NOT SO MERRY: Will Scarlet, a former member of Robin Hood's band of Merry Men, has traveled across many lands to make his way to Storybrooke. He finds himself intertwined in the goings-on in town for the first time as his mysterious past pushes him to an unknown future.
Once Upon a Time Season 4 Episode 1 airs on Sunday, September 28 at 8/7c.
Matt Richenthal is the Editor in Chief of TV Fanatic. Follow him on Twitter and on Google+.