Ugh! It's exactly what I said when this Rizzoli & Isles Season 5 Episode 8 ended because even though I suspected it was coming, I was still wildly disappointed. 
Admittedly I don't know for certain that Jane has lost her baby. It was not said at the end of "Lost & Found" but the title as well as Jane taking a bullet to the vest, being doubled over in pain, and then being hit with a pipe all lead me to that conclusion.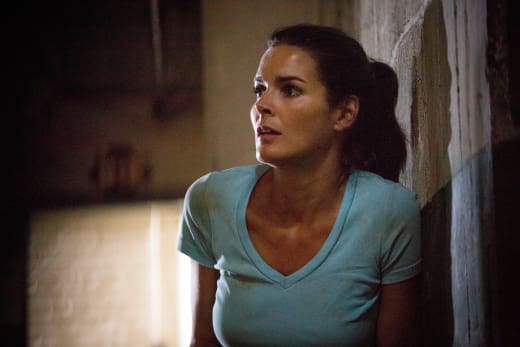 I know many fans weren't happy with the pregnancy storyline. They said it didn't fit with this type of show and a baby definitely would have changed things up but I was looking forward to it. I thought watching Jane go through the joy and struggles as a single mom would have been all the sweeter with Maura and her family and  friends there to help. 
So if Jane has lost her child I'm disappointed, just not surprised.
But let's review the rest of the episode. The introduction of Nina Holiday as Detective Barry Frost's sort of replacement was low key, thankfully. Surprisingly she is not a detective but a crime scene analyst with a back story I'm sure we'll hear more about over the coming weeks. With so little to go on thus far, I'm really not sure how I feel about her. Time will tell.
After all the buildup from last week about Jane finally meeting Jack, it was good to see it happen. Jack is a great guy but it feels as though we've seen very little of him with Maura so far. 
Jack sending Jane his family heirloom autographed baseball was a little over the top. He and Maura haven't' been dating very long and that's quite a gesture to win over her best friend. However, Jane's coffee stain on the ball led to a funny scene with Angela as Jane begged her mother to find a way to fix the stain in this Rizzoli & Isles quote…
Remember when I spilled motor oil on my Communion dress. When you were done with it it looked like new.

Jane
Well, it looked like new because it was new. Apparently Angela is not the whiz with stains that Jane thinks she is. She simply went out and bought another dress. I wonder how many other things Angela has bought over the years to keep up with the charade.
The double murder was an intriguing twist. That should be a lesson to all spouses who are thinking about hiring someone to take out their significant other. Things can go very, very wrong. 
The way Tasha bonded with both Jane and Maura makes me wonder if we'll see more of her this season, assuming she survives her gunshot wound. 
Jane scrambling to get them both away from the hitman was an adrenaline pumping sequence but the entire time I found myself wondering if it was going to end with Jane being injured and losing her unborn child. It definitely took away from the fun. 
So what do you think TV Fanatics. Were you rooting for Jane to have a baby or for the pregnancy story line to disappear?
C. Orlando is a TV Fanatic Staff Writer. Follow her on Twitter.