You've heard of sweet tea. It's delicious and is not to be confused with Angela's sweat tea on Rizzoli & Isles Season 5 Episode 11. 
I'm generally not a big fan when Angela carries the humorous stories on the show. I like her far better in her more serious moments or when she's being an amazing mom. So I wasn't a big supporter of the sweat tea story line.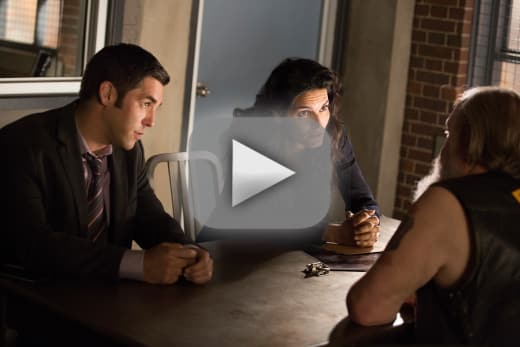 It wasn't horrible but neither watching Angela practically throw herself at Vince nor watching the dog hump Frankie's leg were highlights of the episode. 
Otherwise, the dog was cute. I couldn't stop smiling over Vince naming him after Detective Sipowicz from NYPD Blue and I liked that he figured out that the dog wasn't listening because he only spoke Spanish. 
The murder of the week was grotesque as the body lay half submerged in ice water below yet horribly decomposing above due to the heat wave. 
How brutally hot must it have been in that precinct for all of those people to seek out the room where the autopsies were performed just to cool off?  I'm pretty sure I'd prefer to sweat. 
I enjoyed how the murder led back to the mausoleum but Korsak was the last person I expected to have a zombie theory as heard in this Rizzoli & Isles quote…
Jane: What, our killer's a zombie?
Korsak: Could be fun. Probably wouldn't have to morandise him or anything.
Finding the money hidden with Rick's deceased grandmother meant there was most likely no zombies involved in the murder. Besides, don't they eat brains anyway. I can't see one pouring an ice bath.
But I digress…I felt horrible for Eric. The kidnapping still haunted him over five years later. He had been so traumatized that he voluntarily locked himself away just to feel safe. Perhaps after all of this time he will finally get his life back.
Overall, this episode had some unique moments…as long as you avoided the tea.
Was it just me, TV Fanatics. Did you enjoy Angela and the sweat tea?
C. Orlando is a TV Fanatic Staff Writer. Follow her on Twitter.