It appears that HankMed is once again an orphan organization.
After the shooting that almost put Paige in the crosshairs, Evan was forced to part ways with Ray.
But that wasn't all Royal Pains Season 6 Episode 11 had to offer us, Hamptonites!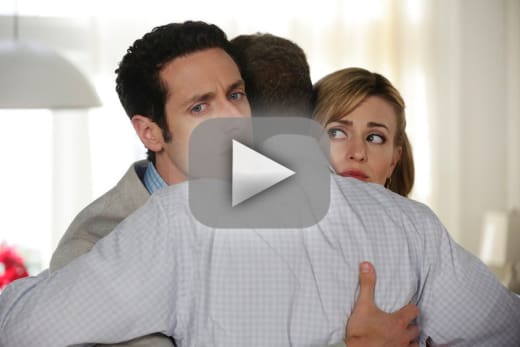 After working together to treat a patient, and after Divya escaped Lorena's lonely Argentinean villa, she and Jeremiah made steps towards repairing their relationship, which I lamented over the loss of in my review of Royal Pains Season 6 Episode 10.
What really struck me about this makeup, though, was the fact he took her hand. I find that to be just past the friend-zone line. And it didn't seem like either party was too keen on letting go, either.
Yes, I'm a Sacdare shipper. And until someone tells me otherwise, I'm going to take that as a sign that their relationship could go either way at this point.
One relationship that is definitely over, though, is that between HankMed and Ray. Not only did Evan rightly decide to cut ties with him after Paige almost got shot, Hank decided to drop him as a patient.
Unfortunately for Evan, this means that HankLab will have to close its doors and set up shop elsewhere.
Interestingly, Evan is pursuing Boris as a potential partner for the project, not knowing that Boris is considering expanding his foundation to aid in the research of other "orphan" diseases not unlike his own. One wonders how that won't impact a potential investment.
Another "orphan" who might be in jeopardy is little miss Emma, who is now stealing prescription pads from big brother Hank. This chick was starting to grow on me, now I can't wait for all her lies to be found out and she be set completely straight by someone around there.
How long till this girl gets set straight?
C. Charles is a TV Fanatic Staff Writer. Follow her on Twitter.