Dance Moms Review: A White Board and Its Tallies

Winston Rice at . Updated at .
After leading the team to victory last week, Nia should've found herself on top of Pyramid on the latest episode of Dance Moms.
But in the world of the ALDC, it appears being the leader doesn't hold as much as weight as being Maddie, who is crowned at the top.
Abby would much rather feed into the growing confidence of Maddie than provide a much needed confidence booster to Nia. This poor Pyramid decision helped to jumpstart Holly's disappointment in Abby, leading to what would later become intense anger and frustration by episode's end.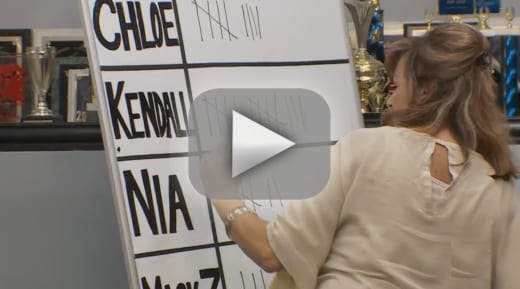 With only two weeks left until nationals, Abby was on quite the verbal warpath on Dance Moms Season 4 Episode 25, relating some girls' intellect to that of her dearly departed Broadway Baby while refusing to address other girls by name; unless, of course, that name was Maddie.
Even when Maddie's busy schedule has her lined up to possibly miss competitions, Abby still finds it necessary to not only give Maddie a solo, but also tap her for the lead of the group routine.
Not one to miss out on the opportunity to pit the girls up against each other, Abby commissions Kendall and Chloe to serve as Maddie's understudies just in case Maddie has to be in Miami for her possible new web series. From Maddie the dancer to Maddie the actress?
Inequity runs rampant at the ALDC and this is just another example of it. Deciding she's had enough, Dr. Holly decides now would be the time to do a quantitative analysis of just how often Abby puts the other girls down just to lift Maddie up.
White board purchased and marker in hand, the moms keep close tally of Abby's indiscretions toward Nia, Mack-Z, Chloe, and Kendall. Obviously, Maddie's name has no purpose on this board, even if Melissa claims Maddie has received "one negative!"
Meanwhile…over in Canton, Cathy still haphazardly tries to get some sort of team together. Each week, as we enter the Candy Apples Dance Studio, we're forced to wonder, who are these people? Because at Candy Apples, new week means new team.
This week Cathy has managed to keep at least one dancer we're aware of – Gino, who just happened to dance for Abby in a losing duet with Maddie a few weeks back.
No wonder Abby is hell bent on ensuring Maddie can perform her solo this week. No one likes a Candy Apple smackdown more than Abby.
Luckily for Abby (or maybe luck had absolutely nothing to do with it), Maddie is able to perform. This only makes Jill squawk louder, hoping Abby will let Kendall and Chloe compete against Maddie with the same solo.
Abby shuts Jill down quickly, claiming she would hate to have Kendall embarrass herself against Maddie. Now where's that white board when you need it. Oh wait, no worries. The moms have brought it along to the competition, much to Abby's disgust.
Holly, using the white board as evidence, just wishes Abby would stand behind her rude behavior. Abby just wishes Holly's daughter would learn to point her toes and straighten her legs. And the tallies keep on coming!
Bottom line: While the moms have valid reasons to be upset with Abby, they all know if it wasn't for Abby and this show, their girls most likely wouldn't have as much as recognition as they do. So in spite of their protests, the moms remain at the ALDC.
And well aware of this fact, Abby has no real reason to change the way she operates.
Especially when that operation leads to pulling the group routine, "Playing with Matches," just to teach the moms a lesson in respect.
But even with Abby's group routine out of the running, Cathy and her Candy Apples still can't seem to muster a winning number, landing in fourth with their The Fault in Our Stars rip-off.
Of course, Maddie's contemporary solo, "Fool Me Once," would never be pulled by Abby. She comes in first, beating Gino's sub-par solo.
With Maddie still the only solid lock for nationals and Holly questioning whether or not she and Nia should stay at the ALDC, the next few weeks should prove to have a huge impact on ALDC's prospects at nationals this year.