With just days before Grey's Anatomy Season 11 kicks off (in an earlier timeslot, take note!), creator Shonda Rhimes has given fans of one major couple reason to worry.
Following Arizona's infidelity - along with the twosome's separation when Arizona left for Africa years ago... and Callie's pregnancy... and Callie's car accident... and Arizona losing her leg... - it's safe for long-time viewers to wonder:
What does the future hold for Calzona?
"I'll be honest with you and say that there is literally a 50/50 chance that they'll be together or apart, and I have not figured it out yet," Rhimes tells Entertainment Weekly.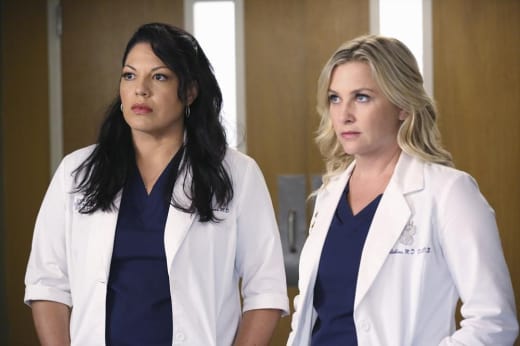 The uber producer said a lot of Grey's Anatomy Season 11 will focus on Meredith and Derek, along with the absence of Cristina, but she hasn't forgotten Callie and Arizona.
Not by a long shot.
"That is the other big storyline of the season for us," Rhimes says. "We really spent a lot of time in the writers' room mapping it out and talking about it. There are two parallel relationships: Meredith and Derek's relationship and Callie and Arizona's relationship. Meredith's journey and Callie's journey are two big journeys that we really want to look at this season as we're telling these stories."
Can Rhimes give any hint at all in regard to which direction she's leaning for the couple? Not really.
"I really want to see Arizona beaming again and I really want to see Callie happy again," she says.
What say YOU, TV Fanatics? Has this couple's time come? Or are there more stories to tell with these two together?
Check out photos from Grey's Anatomy Season 11 Episode 1 below and sound off now:
Matt Richenthal is the Editor in Chief of TV Fanatic. Follow him on Twitter and on Google+.