Love & Hip Hop: Hollywood Season 1 Episode 2 Review: Ex'd Out

Whitney Evans at . Updated at .
As I watch Love & Hip Hop: Hollywood, I keep asking myself: how can some of these girls can be so beautiful and so very angry? In particular, I'm looking at Teairra and Moniece.
Well, the answer is Ray J. and Fizz. A broken heart can make you lash out in ways you never knew possible and these ladies are very broken hearted. 
On Love & Hip Hop: Hollywood Season 1 Episode 2, we continue to see the downward spiral that is Teairra Mari and we meet some interesting new ladies who are poised to bring a lot more drama to a season that is pretty subdued in comparison to some of the past spinoffs.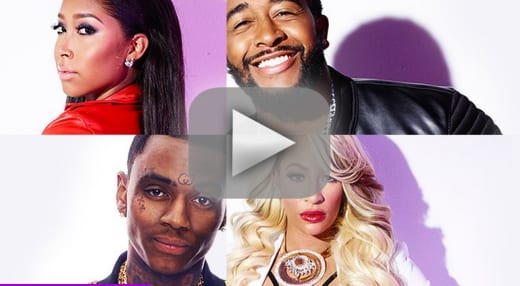 Before we delve into the drama, can we discuss the awkwardness that was that entire scene involving Hazel E and Yung Berg. I mean, ugh. Hazel was seen briefly last week as a former publicist, wannabe rapper and longtime friend of Teairra. She gets her own storyline this week and it has to do with her trying to make Yung Berg her boyfriend. One more time, ugh. 
To say she can do better than a guy who talks about bedding woman every day of the week, sans the Lord's day, is the understatement of the century. 
She gets called out by her supposed friend Teairra, otherwise known as bitter party of one, more than once. And I would have felt bad for her if I wasn't in complete agreement with Teairra. She can do better. 
Fizz shows up for a few minutes and the best part of his scenes are always getting a glimpse of his adorable son, Cameron. We also get a glimpse of Fizz's love Amanda, who reveals that Moniece has been reaching out to her.
It does seem rather odd that you would be dating a guy for two years and never once have any interaction with the mother of your boyfriend's son. But it does seem like Moniece hasn't been around much for Cameron. And Amanda lets her know it when they finally do meet. 
Moniece has this way of fighting and yelling, without looking angry. The whole time she is going off on Amanda, she looks totally at peace, like it's just another day at the sex toy workshop. 
Needless to say, I don't think there will be any joint birthday parties for Cameron in the near future. 
Now it's time to talk about Nikki. Poor, poor Nikki. Wait, who is Nikki you ask? Fabulous question. And I couldn't really tell you. She doesn't get much of an introduction and all I do know is that she manages some strip clubs and seems to be in utter denial that her relationship with producer Mally Mal is over. 
But before we actually get to meet Mally Mal, we meet Masika. She is a video vixen and the kind of girl you want to be friends with high school but hate or something like that. Her assertion, not mine. 
Aside from being a vixen in music videos and wanting to act, she also appears to be Mally Mal's real estate agent. She brings up the houses she's found for him and brings up them entering into a real relationship, but Mally Mal kind of skirts the issue. 
Minus serial dater Ray J and the lovesick boys of B2K, these guys just don't know how to commit!
Someone who is trying to commit though is Soulja Boy. But his past is coming back to haunt him as Nia is shown some Instagram pictures that get him in trouble. Soulja Boy tries to play it off like it's in the past but Nia isn't buying it. And I don't blame her. Unless it's throwback Thursday, you're not posting super old pictures on Instagram. 
Before the episode ends and right in the midst of a freak out between Teairra and Hazel, Ray J makes a welcome appearance and exacts his diabolical revenge on Teairra.
He really goes for it too, by...dumping her clothes on the floor? While I did laugh, it was pretty absurd. Ray should expect something being thrown at him next week. 
Don't forget to watch Love & Hip Hollywood online so you can keep yourself updated on all the latest shenanigans.
Are you fully on board after tonight? Which one of the new additions did you like the best? And where was Omarion, his beard and his dance moves? Let's talk about all this in the comments. 
Whitney Evans is a staff writer for TV Fanatic. Follow her on Twitter.