NCIS New Orleans Season 1 Episode 1 Review: Musician Heal Thyself

doug@mediavine.com at . Updated at .
There's a whole lot of maudlin behavior going on throughout NCIS: New Orleans Season 1 Episode 1.
If you're used to seeing an emotionally closed-up alpha dog as your NCIS Special Agents in Charge (like Gibbs on NCIS) you're in for a bit of a disappointment. Special Agent Dwayne Pride tends to wear his heart on his sleeve.
Not to say Pride isn't an alpha - he clearly is. He's just a different kind of lead dog, and he's going to take some getting used to.
On the opener, we are introduced to a dead petty officer who happens to be one of Pride's old protégés. He goes by the name of Calvin Parks. His murder has been staged to look like a gangland slaying, which brings all kinds of emotional angst Pride's way. 
Parks had been mentored by Pride and was encouraged by him to join up with the Navy. So the apparent manner of his death came as somewhat of a scandal, both to Pride and to the boy's father. Cue the emotional pain.
The audience doesn't yet know enough about Pride (nicknamed "King" by LaSalle) quite yet, so it's too early to invest a lot of emotion in the man. There's the pain of Calvin's supposed fall from grace; Pride sharing of that pain with Calvin's father; Pride calling his daughter so that he could feel better... it was all a bit much.
Anyway, the series is supposed to be about criminal behavior, and the efforts of the New Orleans NCIS team to solve them. It's not supposed to be about the angst of the NCIS team's individual lives, at least not yet.
Though the episode was somewhat dull - particularly in relation to the team's introduction in NCIS Season 11 Episode 18 - it at least allowed us to have a good peek at the characters we're going to come to know and probably love - well, except for one.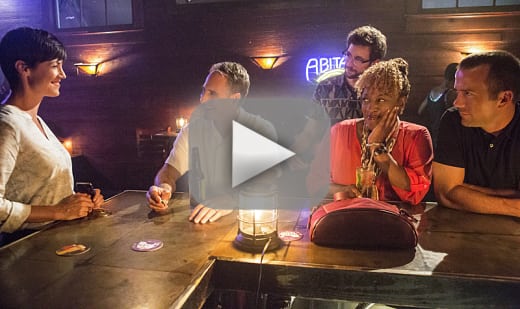 Here's what we know so far (please feel free to elaborate on any of these in the comments):
Special Agent in Charge Dwayne Pride (Scott Bakula) - He's a sentimental man who loves New Orleans food and jazz, in that order. He likes to keep things light, and offers up jokes whenever possible. Pride is beloved by almost all in New Orleans and is willing to take on "lost causes." A kind of do-gooder of the best kind.
Special Agent Christopher LaSalle (Lucas Black) - This guy is a down-home type who refers to his boss as "King" (we don't yet know the origins of that nickname). He feels protective of people, including his boss and Brody, who isn't too keen on this part of his character and so she lets him know from time to time when he's overstepped her boundaries.
Special Agent Meredith "Merri" Brody (Zoe McLellan) - She's a new hire, fresh from the Chicago NCIS team. Brody is protective of her private life, preferring to keep it separate from her work life. This is a cause for prodding, mainly from LaSalle, but also from Pride. She's a martial arts expert and she likes to flex her abilities, particularly against those who only see her as a pretty face. 
Dr. Loretta Wade (CCH Pounder) - A colleague of Ducky (from the original NCIS), she's the Jefferson Parish Coroner who assists the New Orleans NCIS team. We don't know a whole lot about her yet, though we do know she's warm-hearted, gives and receives advice to and from Pride and loves New Orleans.
Sebastian Lund (Rob Kerkovich) - He's a forensic scientist who assists Dr. Wade. He's a bit of a nerd, who likes Lord of the Rings (though being a nerd and enjoying that series aren't synonymous). He is nervous around Pride.
Douglas Hamilton (Steven Weber) - A city councilman who is very much into his career, this smarmy guy looks as though he's corrupt as well. He appears to have his hands into some criminal behavior, including murder and heroin smuggling.  Pride despises him, but can't yet prove his involvement with anything. I think we can expect to see him pop up every now and then. He'll be the guy we all love to hate.
Final thoughts:
Though the team caught Calvin's murderer, they haven't caught the mastermind. Pride is pretty sure it's Councilman Hamilton, but can't prove it yet. That sets the stage for some more interesting episodes to come.
The unspoken character of this series looks like it's going to be the jazz scene. I really hope they continue with this, as it makes the show unique and very attractive - despite the boring aspects of this particular episode.  It's the hook that will ensure the series' longevity.
The opening song for this episode was "Boom Boom" by Big Head Todd and the Monsters.  A little later on, Papa Parks played a jazz rendition of "Just a Closer Walk with Thee".
Now it's over to you.  What did you think of this premiere episode?  Was there enough here to keep you watching? What did you like or hate about it?  Let us know in the comments.
Douglas Wolfe was a staff writer for TV Fanatic. He retired in 2016. Follow him on Twitter
.