If you have not watched The Strain Season 1 Episode 8, be warned this article contains spoilers about Sean Astin's character.
Earlier this week, Astin participated in a conference call with members of the press. The beloved actor touched on everything from what it's like working with Guillermo del Toro... to his castmates... to Jim Kent's redemption... to the visual effects process... and even his favorite new Twitter hashtag.
Below are a few highlights from that conversation.
When asked about his decision to be part of The Strain, Astin stated: "Guillermo [del Toro] wanted me to do it, so I wanted to do it."
He went on to explain that "working with Guillermo is a unique experience. He's just so full of life and creativity and his imagination. You always feel like he's both incredibly well prepared and in the moment and able to be spontaneous, so that's pretty great." 
Astin elaborated about working with del Toro saying "I guess what really impressed me about him is that he continues to deliver in the face of overwhelming expectations and he does it in a way that is calm and fun." Astin said del Toro is just a happy guy and living with the book for many years made him a happy guy. "If you had a question, he would relish in being able to elaborate on an answer as though this was the most fun part of the process."
"And then you'd see him off to the side having a conversation with a digital effects supervisor about what the movement of the worm was supposed to look like and he would be in this enthralled state of bliss envisioning, making the fantasy of these worms in his mind "real" in the digital space. I guess he both loves the fantastic and the real and so and those things serve each other."
Though Astin admitted to not being a "vampire guy," he found "learning vampire lore was pretty cool, particularly the cosmology of vampires in Guillermo's mind is really cool."
Jim Kent was a character most of us sympathized with and casting Sean Astin was a brilliant move. Audiences are terribly fond of the actor thanks to his past roles such as Rudy, Samwise Gamgee and many more.
To Astin, Jim was "basically a morally compromised guy." He explained del Toro's reasoning behind casting him "I think what he liked is that as Samwise Gamgee I'm known for being a friend and loyal and likable, a nice guy; and I think he liked the juxtaposition of somebody doing something morally questionable or wrong, who is likeable at the same time that it would be interesting for people to have to wrestle themselves with it."
"What I came to like about Jim was the way that he wanted -- even though he did the wrong thing -- he really wanted to be of service as a CDC guy, as an aide to Eph. He wanted to help and so I liked leaning into that." Astin enjoyed voicing for the characters what all of them wanted to say, but didn't.
Jim's final episode was an emotional rollercoaster for Astin, though he admitted del Toro & Hogan warned him the character didn't last long in the books.
"I was told in my very first meeting with Guillermo and Carlton that this character from the books, who didn't last that long in the books, wasn't going to last very long in the series, so they invited me to be a part of this show knowing fully well that in [The Strain Season 1 Episode 8] my character is going to get killed off. So there is a little bit of the gallows anticipation that comes knowing we're in [The Strain Season 1 Episode 5]; it's only a few episodes away now before I get to say good-bye to all my new friends."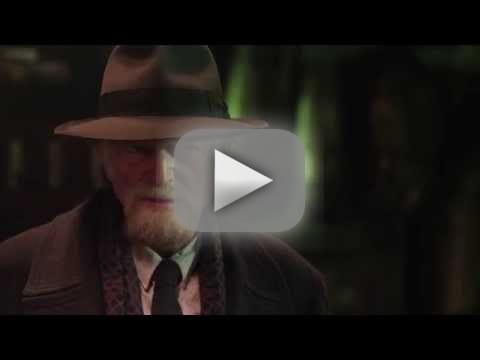 Astin continued:
"When you find yourself actually in the convenience store doing the work, there is an emotional responsibility that you have to the relationship between the characters. And so blocking the scene where Eph and Nora discover that he's been fully infected, it was really kind of cool the first bit where they use the UV ray to see the worm in my face and they go and lay me down and do this sort of butcher surgery or field dressing surgery." 
"But then when we got into blocking, Eph discovers that it's all through my back and then I realize that the only thing to do is for them to kill me and I'm saying I don't want to turn out like the rest of them and I don't want go after my parents and asking Setrakian to basically explain what that is with these vampires go to the ones closest to them. It was pretty powerful emotionally and everybody had this feeling that it was exciting to be doing maybe one of the first big deaths of the show. I guess there had been others, but for me it was the big death because it was me." 
Many fans of the series did not feel Jim had a chance to redeem himself in Eph's eyes but Astin had a different take.
"It's a study on human nature because Eph is reluctantly... Nora is sympathetic to him the whole time it seems like to me. Her compassion meter has a little more sensitively, but Eph finally kind of relaxes his anger towards Jim for a little bit as Jim has acquitted himself in battle really in the moment right before that."
"But then it's Jim's mortality that really provokes Eph's empathy and he doesn't want a patient to die, but he doesn't want his friend to die. You can see it. He says at one point he's my friend and that as an audience member watching it, I really like that. I really like that he showed something of himself and how he really felt. He would never have been that mad at Jim if he didn't like him, because that's what betrayal is. Otherwise it's just villainy."
Discussing the visual effects, Astin mentioned that "basically they would put little orange dots, reference dots, all over the area where the worm would be."
Of course there are also practical effects on the show as well "they had a brilliant piece that they put on my cheek that they could sew and unsew and it was really, really good. It was a piece that started at the top of my inner eye at the bridge of my nose and went down right under the eye all the way around the eye basically kind of like in a half moon and then up into the hairline and down around the jaw and kind of underneath the jaw on the top of the neck and then up and around the same side of the mouth" Astin explained.
In case you were wondering, Astin seemed pretty confident his (and Silvia's) storyline is over.
"The vampire says to me in the train station that now my wife is consigned to die with the rest of something or other, so it's kind of a general comment. I suppose that that could mean whatever the normal course of cancer is can take place or as the plague sweeps the world, she doesn't have any protection from it, but anything can happen. I think in terms of the way the story is giving itself to the audience, I kind of think the Jim and Sylvia of it all has moved on" Astin said.
So did he enjoy working with his castmates, however briefly on The Strain?
"David Bradley was someone that I had worked with in England on a project. And when he started bringing Setrakian to life it was just a privilege. The guy is indefatigable, just when everyone else, when I'm freezing cold and my jaw is chattering and my fingers won't bend, he's smiling and having a laugh and ready to keep going, so he led by example in a way that was quiet and wonderful. I think everybody feels that way about him." 
"I just watched Corey coming off of his show where he's just had an incredible turn in House of Cards and it felt like a privilege to be around him. Richard Sammel… I could go through everybody on the show and to-a-person it was a positive interaction. Kevin Durand and I have the same lawyer, so our lawyer really liked the fact that one of his clients was killing the other one of his clients. I just have so much respect for him and I love him so much and Mia is just such a really whip smart, beautiful lady, a talented lady, yes, I could keep going on.  I loved everybody; I'm sorry to be full on dead now" Astin joked.
In regards to social media, Astin confessed to "scanning through the Twitter feed now and then, but I don't have a consistency to it. My favorite thing was people with the hash tag #RIPJIM. I kind of wanted to get that blown up and put that on the office wall." 
The Strain Season 1 airs Sunday nights at 10/9c only on FX.