Every episode of Transparent arrived on Amazon last Friday.
The series, which stars Jeffrey Tambor as the head of a family with serious boundary issues in Los Angeles, also features a stellar cast that includes Judith Light, Amy Landecker, Jay Duplass and Gaby Hoffmann.
As the title so brilliantly implies, the drama centers on Tambor's transgender Mort and how his loved ones react to his lifestyle choice.
You can watch Transparent online right here, as we've made Transparent Season 1 Episode 1 readily available for readers: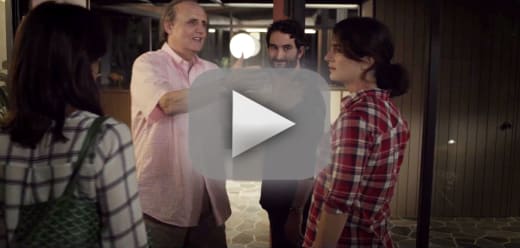 Meanwhile, here's a look at how critics around the country have responded to this original Amazon series...
What Walter White did for Bryan Cranston, Maura Pfefferman should do for Tambor. And what Breaking Bad did for AMC, Transparent may just do for Amazon. Tambor and his show are that good, and that much better than anything else coming our way this fall.  – Robert Bianco, USA  Today
Transparent is not just the best new show of the fall, it's one of the best new shows of the year. – Mo Ryan, The Huffington Post
Above all, watch Transparent, whose pilot is screening now on Amazon Prime. It's a nuanced, gorgeous first half-hour, brilliantly performed and laced with melancholy and humor; you could confidently put it up against the best HBO or Showtime half-hour pilots of recent years. And the fact that platforms like Amazon now exist to give shows like this a chance says that not only Maura Pfefferman, but the TV business itself, is going through an exciting transformation. – James Poniewozik, TIME
Centered on a career-redefining performance by Jeffrey Tambor as a retired professor finally allowing himself to live his true life as a woman, the half-hour, 10-episode series is, quite simply, astonishing to watch. – Mary McNamara, Los Angeles Times
What Soloway has managed to create in this simultaneously funny and emotionally resonant series are immediately intriguing characters whose actions are interesting in and of themselves. – Tim Goodman, The Hollywood Reporter
Matt Richenthal is the Editor in Chief of TV Fanatic. Follow him on Twitter and on Google+.