Lyle returned on Under the Dome Season 2 Episode 11 with news of waves of fire destroying the earth. Beautiful waves.
Is he starting to have the visions that have plagued Pauline all these years? Where the hell was he? That was one long, trippy voyage from the red door to the lake.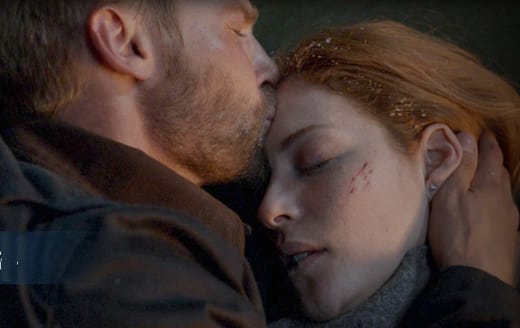 There wasn't a lot of story development as the residents of Chester's Mill fought against bitter cold all because Big Jim went against the grain - as always - tossing away the egg in that backwards attempt to save his family. Which, frankly, makes no sense given the circumstances. His lame attempt to ward of evil thoughts weren't met with anything but disdain, either.
I came back for my son. I told you what you needed to hear to get you out of my way, but even telling you what you want to hear doesn't work and now we're all stuck here because of how much you love me!

Pauline
Pauline had a lot going on and she's a lot of fun, even in light of the part she's played in all of this for years. The scene between her and Melanie was cute, when Melanie didn't flinch at recalling how Pauline left her for dead, but they both admitted how much they missed their best friends.
Jim and Pauline even had a moment. It was nice to hear a bit about Big Jim from his high school football days, because otherwise it's been difficult to see the link between the two because they seem so different. In that instance, there was a flash of their youth that made it believable.
I was impressed with the Hunter twist. At first I was willing to hate on him for betraying our friends, and even more so when he was being so kind right to Norrie's face while we knew he was in cahoots with Barbie's dad. 
It turned out that he saw the damage frakking with the egg was doing to Melanie and the people inside the dome and wanted it to stop. Hooray Hunter! Granted, it's a little late because the egg is gone but at least they aren't stuck inside with another bad man.
There was no explanation why the dome was spinning and causing cold, but I assume it had something to do with whatever they were doing to the egg. The temperature started rising before Hunter spoke to the outside and it began contracting after, so it's unclear if his tablet scribbling had any impact.
The "Black Ice" incident was really the least interesting part of the hour. We get it - Barbie and Julia fell in love like two lovesick teens in a matter of days. They're going to live forever and have babies. Honestly, it's kind of embarrassing how quickly these relationships formed. And there's no way that flimsy wool blanket protected Barbie while Julia fell into hypothermia. Just sayin'. However...
Now that everyone is in love and incredibly close, of course the times are going to get tougher. At least everyone isn't just sitting around and pretending that life will carry on inside their little world. Crap is going down, y'all! 
Will Pauline realize that what Lyle saw is a flash of the future? Maybe she'll be able to paint what he saw or something. Of course, the dome is making a sound similar to the egg so she might start spontaneously painting again anyway. 
Am I the only one who wants a more lucid understanding of Lyle's visions? If the dome is put into place to protect people inside of it, those waves of fire might be one of the things it's hoping to avoid. Lowering its temperature would combat fire from the outside, but let's hope the waves don't spring up from the ground because, well. That would sting.
Maybe the dome has to contract to try to keep people from communicating and doing stupid stuff. We don't know if the dome works on behalf of the egg or in conjunction with it or what have you. I do think it's interesting that neither Hunter or Barbie has connected the "power source" phrasing with that giant sign about the future of power in Zenith.
That has to play a part somehow. They have banked on this big money company with the implication they could get their hands on the source and know how to use it. Which - AHA - they do not. Big bad corporate fascists who want to rule the worlddddd! Ah ha haha haaaaa! (Or something - I'm soooo not into that kind of political name calling but it's hard not to see that writing on the wall!)
Two episodes to go and Under the Dome has really hit its stride. It's what I've always wanted it to be - people freaking out at their crazy-ass circumstances. Watching their first couple of days as they acted as if nothing was wrong was just too odd. This? This wins.
Everyone who wonders why I rated this episode high? It's on a curve, against other series episodes, not against Breaking Bad or any other show for goodness sakes. A series premiere episode gets one type of grade, the rest of the series it seems fair to judge against its own fare, ya know?
Hit the comments and share your thoughts on the progression of the story. Are you liking it better now that everyone is fully aware of what's at stake? Do you think the power plant being built was depending on the egg for the source? Talk to me!
Carissa Pavlica is the managing editor and a staff writer for TV Fanatic. She's a member of the Broadcast Television Journalists Association (BTJA), enjoys mentoring writers, wine, and passionately discussing the nuances of television. Follow her on Twitter and email her here at TV Fanatic.