Will Farwicke, a pool shark ends up dead in his apartment with  pool cue stuck in his chest on Castle Season 7 Episode 3. The question is, who murdered him when all of the doors and windows appear to be locked from the inside. 
Will said he's made a deal with the devil and his soul had come due but was it really the devil he was speaking about? The investigation takes a strange turn when all of the security footage disappears and Beckett and Castle are attacked by an unseen force at the crime scene. Castle thinks the killer is the invisible man and he might not be far off from the truth.
Meanwhile, back home, Rick and Kate realize they've both been holding back because they thought the other wasn't ready for their love life to get back to normal. Turns out they're both more than ready, if they can only find a way not to be interrupted.
And Esposito finds out that Ryan has taken on a night job working security at a club to make ends meet. But it's the kind of club that makes Javi smile. 
Don't miss a minute of the fun. Watch Castle online right here at TV Fanatic.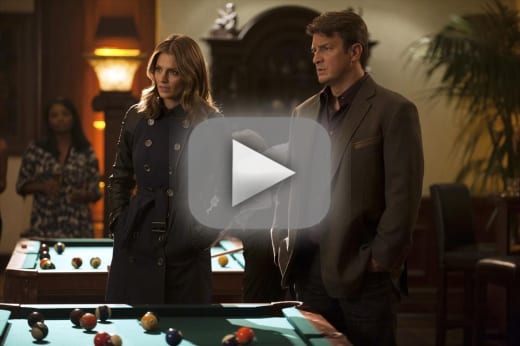 C. Orlando is a TV Fanatic Staff Writer. Follow her on Twitter.