When an ice cream truck driver is killed in Castle Season 7 Episode 4, there turns out to be an unidentified second grade student who may have witnessed the murder. But when none of the students in Mrs. Ruiz's class are willing to come forward, Rick goes undercover in the classroom to gain the kids trust and get one of them to confide in him. 
Turns out that Castle makes more than one new friend as he plays Army men with Jack and has a magical fairy tea party with Emily. He even manages to find a nemesis in class bully Jason but it's all worth it when Castle and Beckett finally get the information they need to track down a killer. 
Back home Rick has other issues to deal with as Alexis has become overprotective since his return home. Castle tells his daughter he understands what she's going through as he expereinced the same thing when she was kidnapped and taken to Paris. He assures her that although she can't always protect the people she loves, he's not going anywhere. 
Don't miss a minute of the fairy wings and magic wands. Watch Castle online any time right here at TV Fanatic.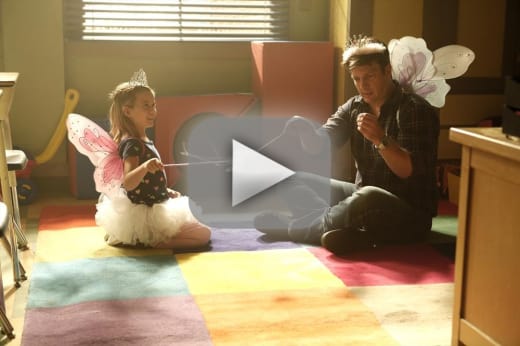 C. Orlando is a TV Fanatic Staff Writer. Follow her on Twitter.