Manzo'd with Children Season 1 Episode 3 Review: Off to the Races

Winston Rice at . Updated at . Comments
The Manzos sure do like opening up new businesses, don't they? From BLK water to Cafface to Little Town NJ, the Manzo family has introduced a variety of new business ventures to the world since their time on reality television began. And on Manzo'd with Children Season 1 Episode 3, Albie and Chris look to open a second Little Town NJ at Meadowlands Racetrack. 
The only problem? The Manzos like to do it big, and Albie and Chris' grandiose plans for Little Town NJ 2.0 just aren''t going to work for Meadowlands; it simply doesn't have the space for a big new restaurant. So what was supposed to be the second Little Town NJ quickly becomes a Little Town NJ beer truck. Which when you really think about it, isn't such a bad idea for a racetrack. 
But to make that happen, Albie and Chris need to find a beer truck. Who they gonna call? No, not the Ghostbusters. They gotta call dad, Albert!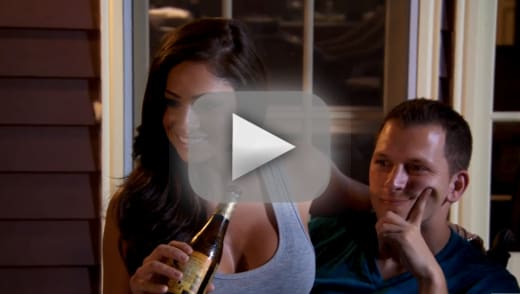 Albie isn't too impressed with the beer truck they're given. Chris, in usual fashion, is much more optimistic. And voila! A deep cleaning and some polish later, and the Little Town NJ beer truck is looking great. 
All that's left is the grand opening. The whole Manzo family shows up for it, as does Albie's new girlfriend, Brittany (or as Jacqueline likes to refer to her - "Miss Daisy Duke"). 
But Jacqueline isn't the only one to comment on Brittany's appearance. Days earlier at a cookout, Lauren and Caroline both noticed how much Brittany liked to show off her "ring girl" body. Yes, Brittany is a ring girl at boxing matches. And yes, Albie met her in Atlantic City. But who cares? Albie looks happy.
Vito, Lauren's fiance, doesn't care. He loves Brittany's company - especially when she shows him how to master the art of holding the ring girl signs. 
Caroline, on the other hand, definitely doesn't seem pleased in Albie's choice of mate: 
Every mother will understand what I'm saying when I say that one will give me a stroke.

Caroline
This becomes even clearer after Caroline chats with Albie in the home gym. She just doesn't want Albie to have any "bumps" in his career. And Brittany, well...she's definitely a bump.
I get it. Caroline is a mother, and she has every right to have an opinion. But Albie is 28 years old. I'm pretty sure he is capable of making those bump-worthy decisions on his own. 
Caroline isn't even the worst of Britney's naysayers. Lauren takes fiercely protective sister to a whole nother level. She's plain rude to Britney on multiple accounts, and for what? Her reasoning: she wants her currently non-existent future children to grow up with cousins that are the same age, and she doesn't want Britney to be the mother of those cousins.
Um...what? This is all hypothetical. Lauren has no clue when she will be having children, and I'm pretty sure Albie and Brittany aren't serious enough for Lauren to be worried about her future children calling Brittany Auntie anytime soon. 
Besides, it's not really Lauren's call who Albie chooses to date or marry. Lauren seems far more concerned with how her future sister-in-law will affect her own life instead of whether or not said sister-in-law makes her brother happy, which should be her primary concern. 
Regardless, Albie shouldn't have threatened to cut sibling ties with Lauren just because she gave him her unsolicited opinion. That's a low blow. 
What do you think? Do you think Albie took the fight too far? Hit the comments with your thoughts! And don't forget to watch Manzo'd with Children online via TVFanatic now!