Nothing like a little plague to make you sit up and take notice, huh?
This second installment of NCIS: New Orleans was a little more adrenaline-inducing than the first.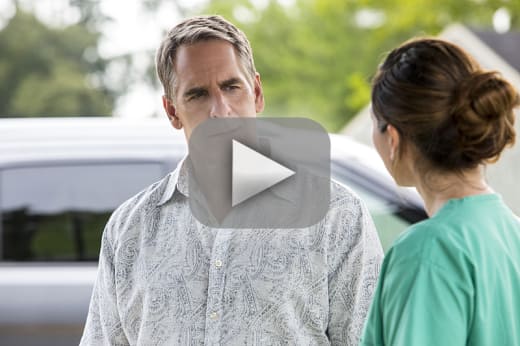 NCIS: New Orleans Season 1 Episode 2 gave us the tale of a group of sailors on shore leave, one of whom was sick and dizzy enough to confront a moving taxi. The taxi won, of course.
This crossover episode gave us another chance to see the team coalescing, as they circled the wagons and called in their friends in the medical community, the CDC and, of course Director Vance, Tony DiNozzo and Abby to help them contain and investigate the disease.
I really enjoyed seeing how this team operated together; in particular the way they got their cues from each other. This was most evident when they confronted the host of the poker game down by the Bayou:
Brody: It really smells awful in here.
LaSalle: Smells like stupidity to me.
Pride clearly takes pleasure from taking down the bad guy... or seeing one of his team do so:
Damn Christopher. That was pretty. But if he's infected, we're going to have some sick gators on our hands.

Pride
He's got a very short fuse, though, as evidenced by his take-down of the pharmaceutical company owner-doctor. Nothing wrong with that. However, I wonder if he'd have held back from throwing the doc into the canal - even after he confessed -  if LaSalle hadn't said his name in a warning tone.
There were just a couple of missing notes in this episode:
There wasn't any of the great jazz music I was hoping to hear. The opening bar music was brassy and irritating, played probably for effect to emphasize the dizzy sailor's physical angst.
It's difficult to believe that such a thing as a plague can be hushed up so that no one panics. There were a lot of people involved in the containment of it, and it's impossible to believe that not one of them would leak the news to the press, or to their families.
Suppression of disbelief is the order of the day, I suppose, all to keep a good story running smoothly.
It was good to see LaSalle give Brody the assurance any newbie on a team needs to hear: that she's accepted and appreciated for her work and abilities. Clearly, this is a team that has the makings of some great chemistry.
What did you think of this second episode?  Did it meet your expectations? 
Watch NCIS: New Orleans online, and then chime in with your comments below.
Douglas Wolfe was a staff writer for TV Fanatic. He retired in 2016. Follow him on Twitter
.