On The McCarthys Season 1 Episode 1, we were introduced to the Boston sports-loving, somewhat neurotic and heavily-accented McCarthy family.
Mom Marjorie and Dad Arthur have four grown children; Ronny, Gerard, Sean and Jackie. Each offered some quick one liners, but Ronny stole the show. Gerard did too, but that might be the teenage fan girl in me who just sees Joey from New Kids on the Block! I was one of those girls who had NKOTB bedding. And buttons. And still knows all the words to Step By Step.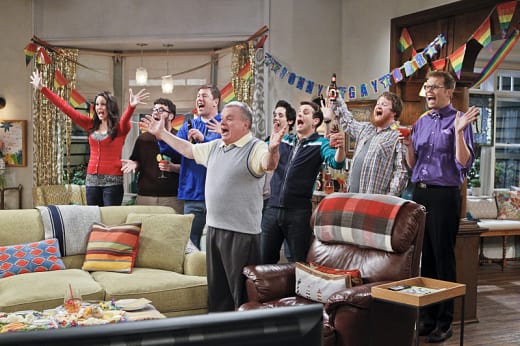 Ronny, the 29-year-old gay high school guidance counselor was offered a position in Providence, Rhode Island and was set on moving. It was obvious from the start that Ronny wasn't going anywhere, but I enjoyed watching how Ronny came to the decision to stay. 
Before the first commercial break, the family found out Arthur's (Dad McCarthy) assistant basketball coach died, but they continued to watch the game because, "It's what Fatty would have wanted." The first time around it was funny, but each family member proceeded to add in another joke and it got old fast. While we didn't actually meet Fatty, his character offered a way to keep Ronny in Boston and he was the father of Jackie's unborn child. 
His funeral gave us a chance to see Arthur shine and land a star basketball player while he "prayed" over his dead friend's coffin. 
As someone who comes from a Buffalo sports-loving family (which is why I am so very happy that The McCarthys are not fans of the New England Patriots), I had to laugh at all the sports references. However, I was a little disappointed in the sometimes offensive gay jokes they made throughout the episode (as Ronny pointed out). I hope they take some of the focus off Ronny's sexuality and keep the sports puns coming! 
Laurie Metcalf, who plays the matriarch of the family, was a little over the top, but warranted a few laughs throughout the night. It's clear that she loves her kids, even if she has a flair for the dramatic. 
All in all, I thought it was a good first installment for CBS's newest comedy, and offered a cast of relatable characters. I'm intrigued, and looking forward to seeing what is next for Ronny and the whole McCarthy family. 
Other quick thoughts:
I enjoyed the shout out to The Good Wife, which I also review for TV Fanatic. I'm so with you Ronny & Marjorie, I couldn't wait if I DVR'ed it either!
The laugh track was a little overkill. I'm hoping they tone it down for future episodes. 
Now Step By Step is stuck in my head. Sorry if it's stuck in yours, too!
So are you ready to make The McCarthys a part of your Thursday night routine? Which character did you enjoy the most? What was your favorite one-liner? For me, it was Gerard's "That's why you are on JV. That's why you are on JV."
Krystal Sondel is a staff writer for TV Fanatic. Follow her on Twitter.