There was love in the afternoon for Hope and Aidan, a nightmare come true for Theresa and a possible breakup for JJ and Paige this week in Salem.
Our TV Fanatics Nick McHatton and Christine Orlando are joined by RoKaAlways from MyHourglass a Days of Our Lives Fan Forum to discuss Hope and Aidan's relationship, whether Theresa got what she deserved, who they'd pair with Nicole and more after the latest Days of Our Lives.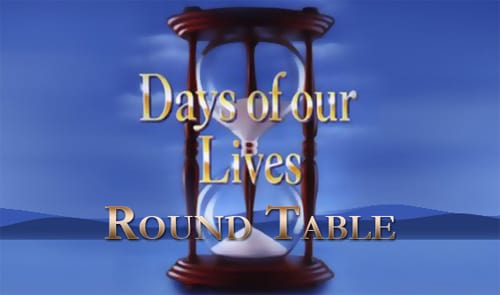 Hope and Aidan made love. Was it too soon?
Nick: Maybe too soon in their relationship with each other, but taking into considerations their pasts and how long they've been away from their previous partners this roll in the sheets could not have happened sooner for the two of them.
RoKaAlways:  No I don't think so.  They're adults, they've known each other quite a while.  Seems to be the right thing for them right now, but of course, it's a soap, so . . .
Christine:  Not really. They're both adults. They've both been through a lot and they've been honest with one another. And goodness knows there's serious chemistry! Hope and Aidan deserve some fun and they deserve to be happy. I was thrilled to see them dive into a physical relationship. 
Do you feel sorry for Theresa or did she have this coming to her after all she's done?
Nick: I think we're supposed to feel sorry for Theresa, but I really, really don't. She's done so many very tragic and horrible acts that she needs a lot more time climbing out of her rock bottom hole. One baby snatching is not going to evoke sympathy from me. 
RoKaAlways:  Yes I really do feel sorry for her.   I love Jen Liley's take on this character but there has to be a reason that she's acting the way she has in the recent past and I am hoping that the show will explore this.  I am really interested in seeing a backstory for her and Eve both.
Christine:  Surprisingly I actually do. No one should have a fetus taken from their body. That's rather horrifying. It doesn't take away all of the crap she's done in the past but on this one, she does have my sympathy. 
Is Eve right, should JJ break up with Paige?
Nick: I think Eve is making some sense, but my hope is Paige breaks up with JJ after she finds out and goes to Stanford. She's a boring, uninteresting character, and she absolutely needs to go.
RoKaAlways:  Yep, but maybe not for the same reasons I think.  I do not like the Eve and JJ story at all, though I love actress Kassie DePaiva who plays Eve and everything she's given is turned to gold.  JJ and Paige are not anything alike.  They're not compatible and frankly, they are boring.
Christine:  Yes! You don't come back from this and as much as half the blame falls on Eve, loosing her mother too would make this far worse. That said, I'm with Nick. If Paige decided to head off to Stanford tomorrow, I'd be thrilled. 
What do you think of University Hospital's mystery patient?
Nick: I think he's hitting on the ladies too much and is covering up something about his sexuality.
RoKaAlways:  Not impressed.
Christine:  Admittedly I'm not a baseball fan but talk about boring. I'll be thrilled when he's finally gone.
If you could choose a love interest for Nicole, who would it be?
Nick: Eric or Brady, I love the chemistry she has with them, and when the chips are down for her, Brady is usually always there to back her up.
RoKaAlways:  Honestly, I'd like to see Eve with Eric and Nicole with Brady.  I feel like she and Brady would have major sparks.  Theresa might work well with Chad.
Christine:  Eric's morals will always be an issue. Brady makes a better friend than romantic partner. Daniel annoys me, although he usually accepts Nicole for who she is and a Rafe and Nicole pairing might be interesting. She needs someone fun, challenging, smart and has a bit of an edge. Honestly, I don't see anyone on the canvas who is a good fit right now. 
Which character disappointed you the most?
Nick: I'm really uninterested in Chad's shenanigans with Ben. I liked it more when Chad was duking it out with EJ and the DiMera empire rather than his past love life.
RoKaAlways:  Daniel, as always.  I just can't get into this character.  I do enjoy SC usually as an actor, but this role is just so pretentious, so tiresome, and so into every single scene and into every story and everyone's life.  Yuck.
Christine:  Abigail and Ben. At first I thought they had potential but now they've become boring and predictable and they don't have a fraction of the chemistry I see in Hope and Aidan. 
What was your favorite scene/story of the week?
Nick: I absolutely loved the Hope and Aiden scenes. Loving them as a couple and watching them grow together.
RoKaAlways:  I like the Theresa and Brady stuff with the pregnancy etc.  Jen Liley has really won me over!!
Christine:  Hope and Aidan. I loved that he was honest about his past and that Hope was smart enough to listen. I also liked that Aidan was willing to spend the afternoon playing cards if Hope was ready.  Thankfully, she had a much better idea.   
C. Orlando is a TV Fanatic Staff Writer. Follow her on Twitter.