Rowan escaped. Fitz was blackmailed. Olivia chose Olivia. Those were the key takeaways from the Scandal mid-season finale.
What did the TV Fanatic Round Table panel think of what went down? We're glad you asked!
Join Jim Garner, Christine Orlando, Leigh Raines, and Miranda Wicker as we break down "Where the Sun Don't Shine," and then be sure to jump into the comments with your answers to this week's questions. Let's keep the conversation going until Scandal returns in late January!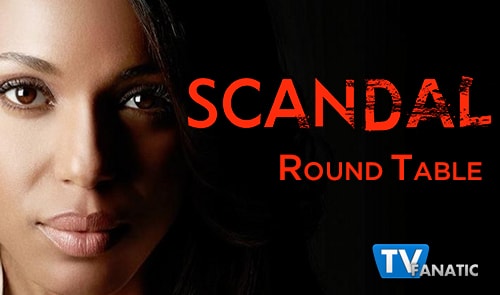 What was your favorite quote or scene from Scandal Season 4 Episode 9?
Jim: Hands down, it was the scene of Olivia yelling at Cyrus about being "A little bitch baby!" Cyrus had lost a lot of his fire after James died and you could see it all coming back in that one scene.. So full of awesome!
Christine:  I waited the entire episode to see Mellie react to the news that Andrew was sleeping with Elizabeth and Mellie did not disappoint. "Because when it comes to screwing someone I'm not nearly as gentle as Andrew. From me, it will hurt." I love Mellie and I can't wait to find out what she has in store for Andrew. 
Leigh: I kind of really enjoyed Quinn kicking Charlie's ass when she found the kill card. I love that she doesn't just run and confronts things head on. They got into a rumble and then had a regular old convo like exes about granny and what not. 
Miranda: I love anything that has to do with Quinn and Charlie, but my pick goes to Cyrus telling Olivia he wouldn't agree to the marriage and disrespect James that way. 
Were you surprised that Olivia pulled the trigger?
Jim: Nope, she is her father's daughter. She does what she says and that includes pulling the trigger when she thinks he should die. 
Christine: No, but I loved Rowan's reaction to it. He couldn't believe his own daughter would pull the trigger but he must have believed it was possible or else he would have loaded the gun. 
Leigh: I was! She was shaking, I didn't think she'd do it in the end. Rowan's reaction was insanity and amazingness rolled into one. 
Miranda: I was. I totally was. I didn't think she had it in her and at first I thought Rowan's little yelp was taunting her. Then I realized he, too, was shocked she'd do it.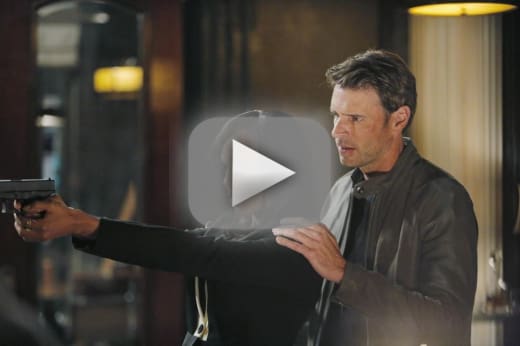 Should Cyrus have resigned or do you agree with his final decision?
Jim: While it sounds strange, I'm glad Cyrus stayed. Fitz needs him more than he knows as Cyrus does love the U.S. enough to do the "dirty work" when needed. 
Christine:  I'm torn. Fitz wouldn't survive in this job without Cyrus and this job is Cyrus whole life. On the other hand, I was proud of him when he said he wouldn't marry his hooker because it would degrade what he had with James. In the end I understand it was the best hand he could play with the cards he had and I loved the conversation that went..."So Cyrus would basically own me."  Cyrus:  "You mean as oppose to just renting."
Leigh: For our entertainment, I'm glad he went back. He's not a little bitch baby! I understood both sides of it, not wanting to disrespect James was really important to him. But he crawled his way into the White House too and that's really important to him too. 
Miranda: Part of me really, really thought he would resign as a gamechanger for the series, something we wouldn't see coming. Ultimately, I was glad to see him mention and grieve James. Now if only he would spend some time with his daughter...
Where is Rowan Pope now?
Jim: No idea, but I doubt we've seen the last of him. 
Christine:  Rowan always pops up when and where you least expect him. I'm just waiting to see if there's a card with Olivia's face on it out there. 
Leigh: Somewhere drinking wine and plotting.  
Miranda: He put those bottles of wine in Olivia's favorite store just before he went off to some underground bunker where he has hacked into all the DC cameras in order to watch Olivia's comings and goings.
What do you think about Olivia's decision to choose herself?
Jim: Best choice she could have made. In the end, Olivia has to be ok with being herself and not just the +1 to Fitz or Jake, and she kept missing that part of the formula. 
Christine:  It's about damn time. For such a smart, independent woman she's let her life be enveloped by these two men... and her father. I think it's time to find her own place in the sun. 
Leigh: This was SO 90210 Kelly Taylor "I choose me." Except instead of Brendan and Dylan it's Vermont and the Sun. Get it girl.
Miranda: This was absolutely the best choice for Olivia. She can't let her happiness be defined by the happiness of those in her life. It's time she makes herself a priority.
Better dancer: Jake, Olivia or Harrison?
Jim: Harrison is gone, let him go. My vote is Olivia.  
Christine:  I liked Jake dancing. It was just goofy enough to make me laugh and showed once again how he'll do just about anything to make Olivia happy.
Leigh: Was really surprised and really enjoyed Jake's moves. Scott Foley lookin good! 
Miranda: I'll never let go, Jim! (Please imagine me on a makeshift raft in freezing water as you read that, mmkay?) Anyway. That scene looked like so much fun. My vote goes to Jake's goofy moves. It was nice to have a happy, light moment right before the one which will be our focus when we return.
#TGIT returns in late January on ABC, but you can always watch Scandal online at TV Fanatic if you're in need of a bingewatch.
Miranda Wicker was a Staff Writer for TV Fanatic. She retired in 2017. Follow her on Twitter.