Forever Winter Finale Preview: Lorraine Toussaint on Rallying Around Henry, A Burgeoning Love Story
Paul Dailly at . Comments
Who is Adam?
That is the main question going into Forever Season 1 Episode 11. Prepare to have it answered in a few hours.
Series regular Lorraine Toussaint chatted with TV Fanatic via telephone yesterday, priming us for what is sure to be a nail-biting installment as Henry plays a game of cat and mouse with the stalker and tries to stay out of the frame in a string of murders committed by the elusive "Adam."
Scroll down for excerpts from our exclusive Q&A...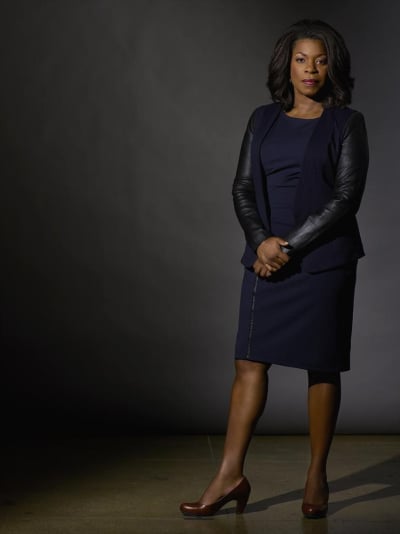 TV Fanatic: What can we expect from the mid-season finale?
Lorraine Toussaint: Have you seen it?! I think we're going to take these characters to another level. There's going to be some terrific surprises. There are. You'll see different aspects of Henry and my character, and Reece. The events will just... you know, there's nothing like danger to bring out – hopefully – the best in us. And I think of this episode. It really does. Henry is in danger and we begin to circle the wagons around him.
TVF: Can you talk a bit about Joanna's role in the finale?
LT: I think Joanna's role in the finale is sort of like den mother. She has all these children running around and half of them are badly behaved. And so, every so often she's got to snatch them up in one way or another; especially Henry. You know he is the brilliant child, but he is the bad child. You know, she's just got to keep him in line, you know? And often with the bad child – and I mean bad in the best sense of the word  – the one that always climbs and breaks, you know? Always taking apart the washing machine. She has, I think, a special fondness for him that she will not let on.
TVF: We know already that Adam is going to be revealed to the viewers. Is it somebody that viewers are familiar with, or is it something you can't say?
LT: I think it's something I can't say. 
TVF: That sounds fair.
LT: That becomes a spoiler. I can't. I'm not. I've been trained very well on Orange not to be. And you seem so nice. You seem so charming. I'm not going to tell you!
TVF: Oh man, so I have to be mean from now on.
LT: No, that's not going to work either. [laughs]
TVF: So how many characters are going to come in contact with him in the finale, or is it just going to be a viewer reveal?
LT: Um, yeah, I think characters come in contact. He makes contact. Contact will be made.
TVF: So, with Adam trying to frame Henry for all the murders, do any of the people he works with actually believe him to be capable of such crimes?
LT: No, that's were you see a particular side of Reece that you haven't seen before. You do – you see, I think. I think, basically what happens is when Henry's in danger, you actually see us rally. We rally around him. The riding gets circled around our boy and we take care of our own. Absolutely. And there is kind of a very sweet way in which that happens in this episode. 
TVF: Will the big reveal affect Henry going forward, or is it something he is going to be able to deal with?
LT: Well, we have the back nine, so we are going forward. Most definitely, we are going forward.
TVF: We got a little bit about Joanna's back story a few weeks ago. Are we going to get some more of that in the new year?
LT: Yes, we are. In fact, I'm having talks with Matt Miller as we speak in terms of where he wants to see with this character. How he sees this character evolving and I'm very excited by some of his ideas.
TVF: So we can expect perhaps a Joanna centric episode?
LT: I think we can. I think we can.
TVF: That sounds great.
LT: Yeah. Totally.
TVF: And do you have any tidbits at all about what we might expect in the second half of the season?
LT: Um, I think we see much more of the more of the Moriarty character. I think more contact is made. And obviously at some point there is a burgeoning love story happening here. So, I don't want to say anything but, you know, danger creates intimacy, and so, I think it should give you a much more intimate view of all of these characters and they become more deeply bonded. All of them. 
TVF: Well, it sounds really great and I'm so glad to have you on Forever as well as, perhaps, coming back to prison [on Orange is the New Black]. 
LT: Yes, there's both sides of the law. There's prison and then there's the station. Good lord. You know, I feel a little bit like... prisoner, police, prisoner, police, which am I?
TVF: Your range is just fantastic. I mean you're such a different character on Forever than Vee, who I just want to slap silly. I hate to say that I screamed in excitement when you were run down.
LT: [Laughs] That's just so wrong, but so right. I get it. I don't even blame you.
TVF: And you're just so lovely. It's just absolutely been wonderful talking to you and I can't wait to see more of you as the new year roles around. 
LT: Thank you so much. it's been lovely talking to you.
Remember you can watch Forever online right here at TV Fanatic! Get caught up on the clues now!
Forever Season 1 airs Tuesdays at 10/9c on ABC. 
Paul Dailly is a staff writer for TV Fanatic. Follow him on Twitter.