Lana Parrilla Teases Once Upon a Time Finale, Robin's Choice & Regina's Future

Christine Orlando at .
With the winter finale looming over Storybrooke on this Sunday's Once Upon a Time Season 4 Episode 12, we had the chance to chat with Lana Parrilla (Regina/The Evil Queen) about Operation Mongoose, Regina and Robin's relationship and the new set of villains on the horizon in 2015.
What can fans expect this Sunday and beyond? Scroll down for excerpts from our exclusive interview...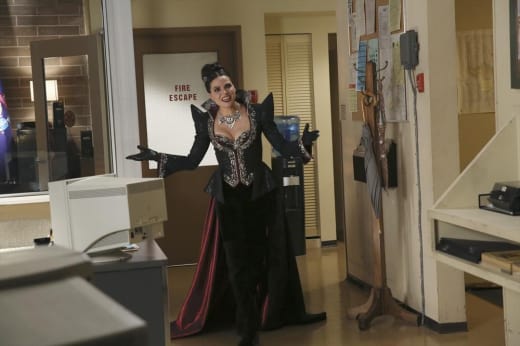 Was doing battle with Snow White in last Sunday night's episode as much fun as it looked?
It was. It was a really fun day. We can't take credit for all the fabulous stunts. They won't allow us to do that but it was fun when they needed to shoot our face and we're trying desperately hard not to hurt one another, like Are you uncomfortable? Is that OK? Does that hurt? Just all of us being extra cautious on set but it was a ton of fun. It was fun to to go to that evil, worst self, angry Regina. I had questions like, why would she want to kill Snow White again? I mean, these things have resolved.
They're past issues but when you become your worst self I guess all those horrible negative thoughts resurface and it played out beautifully. I mean they were at each others throats and getting thrashed around that office. It was fun to play and I love working with Ginny (Goodwin) and Josh (Dallas). It was fun to have them there and seeing how they became their worst selves. I really wanted Regina to be more beast-like, you know, the height of her horrible being and I think that came across. It was quite believable and fun to play. 
With Regina on the road to redemption, we haven't seen as much of the Evil Queen's outfits. Even Regina seemed shock by her attire when the curse finally broke? How long does it take to get dressed into the Evil Queen's attire?
It takes about two and a half hours in total. Sometimes three. Yeah, it's a process. I'm sitting in makeup for about an hour and 20 minutes and hair for about 45 minutes and then getting in costume takes a bit. There's a lot of pieces to the costumes that take a while to put on. I love both sides to this character. I love playing the Evil Queen. I miss her and feel like it was time for her come back. I'm hoping to see more of her and you will so that's exciting. This coming episode is heroes versus villains so it's going to be interesting to see which side Regina chooses and that will play out for the duration of the season. 
Robin and Regina consummated their relationship but he's still married to Marian? is there truly any hope for this couple?
I think so. It's funny and some people have mentioned adultery and obviously I don't support adultery. I'm married. I'm an honorable woman and playing this part has kind of forced me to think about that. I don't think it necessarily applies in this relationship with Robin Hood and his marriage to Marian. Part of that is because it's been about 29 years since he was married. It's kind of like the Castaway movie where he's stranded on this island and comes back ten years later and his wife has been remarried and has a family. I think that's an important way to look at this relationship. Regina isn't being disrespectful.
Marian was dead and now she's back and so that makes for a very trying relationship and a very difficult decision for Robin Hood. This Sunday he will have to make a choice between these two woman and you will see who he chooses and that's about all I can say.
Most of the first half of the season was focused on the Frozen storyline. Will we be returning to the search for the author of the book and will it encompass more than just Regina and Henry?
I think getting other characters involved is quite dangerous because they can totally throw a wrench into Regina's plans. She wants to keep this as private as she possibly can. If anyone else knew about it there's a fear that they would get to the author before she would. So finding the author is a priority for Regina and she's not going to stop searching for him at least not until the end of the season if not more. 
Regina and Rumpelstiltskin are both villains looking for their happy ending. Do you think Regina deserves to find hers?
I'm asked that question a lot. I don't necessarily know. She's killed a lot of people, she really has. She's murdered villages. At one point she was so cruel to so many. However I would like her to find her happy ending. She's come full circle. She has been on that road to redemption and she's made a lot of choices. She's made a lot of amends with the characters she's hurt in the past, apart from the ones that are dead. She's sacrificed her life more than once for the entire town and she's done a lot of things right so for those reasons I would hope she is credited for some of it or just given a break. That would be nice for a while. 
We hear we've got Cruella de Ville, Ursula and Maleficient coming to town. Is there anything you can share about the second half of the season?
I would say that these three women that are coming are women that Regina knows from her past. She has a close relationship with Maleficient. You'll see how they met and how they became friends. it's a beautiful episode that we start filming this Thursday, we start filming episode 14. So you'll learn a lot about those two. The other two women, their paths have crossed. Their relationships with Regina are definitely not as developed as with Malificient and Regina's relationship but these three woman are going to bring a lot of humor, a lot of fabulous costumes, great acting and a lot of problems to Storybrooke. It will be fun to have them on the show. It's going to be great. 
Don't miss a moment of the magic. Watch Once Upon a Time online right here at TV Fanatic. 
C. Orlando is a TV Fanatic Staff Writer. Follow her on Twitter.