The Once Upon a Time Season 4 Episode 12 winter finale closed out the Frozen story line and opened up a whole new world of "Heroes and Villains." As we look towards the second half of the season the question becomes; will anyone find their happy ending?
It's hard to say, although some characters certainly seem to deserve it more than others. In my recent interview with Lana Parrilla, she explained why she thought that – despite Regina's past – she deserved to catch a break. I have to say I agree. 
The Evil Queen has certainly done monstrous things in her past and that shouldn't be discounted, but Regina has worked hard to become a better person and this episode highlighted that like never before. 
As Rumpel pointed out, Regina could have taken the most expedient way to her supposed happy ending by killing off Marian in order to have Robin Hood all to herself. Although if she had gone that route and the truth ever came out – and it always does – she also would have lost Robin's love forever. 
Instead, Regina did everything she could to save Marian and her sacrifice almost paid off as even Marian could see how Robin felt about her as she told Regina in this Once Upon a Time quote…
I don't want him to be with me out of obligation. I want to be chosen.

Marian
When Robin followed his heart he chose Regina; not that it mattered in the end. That final kiss Robin gave Regina before walking over the town line was a heartbreaker because it was a kiss of true love…and it was their last. 
My favorite scene of the hour was when Emma found a depressed Regina later on that night…
Regina: I'm not in the mood for a hope speech, Emma.
Emma: You're mistaking me for my mother. Besides you don't need a speech, you need a drinking buddy. Shots?
That's exactly what Regina needed and I'm thrilled Emma, Regina, and Henry will be working together to find the author of the book. 
Maleficient, Ursula, and Cruella de Ville were a fun addition and I look forward to seeing more of them later in the season. Something tells me these three are just getting started. 
Belle's journey from ignorance to acknowledgment was painful to watch. She believed in Rumpel with all of her heart and he'd played her for a fool every step of the way. The saddest part is he truly does love her, but much the way he loved Neal, he simply loves power more.
You'd never give up power for me Rumpel. You never have, you never will.

Belle
I was proud of Belle when she stood her ground, but when Rumpel admitted he was scared as she forced him over the town line, it was a bit heartbreaking. 
Rumpel's love of power stems from his fear of ending up as the coward whose wife left him and who was ridiculed by everyone he knew. Those wounds run so deep I don't think they'll ever be healed. 
Thankfully Hook got his heart back but I wish there'd been more discussion between he and Emma about what he'd gone through at the hands of the Dark One. I am hoping for more romance between these two in the second half of the season. 
So what do you think TV Fanatics, will Rumpel ever get Belle back? Are Hook and Emma on the right path? And if Regina and Henry find the author, will she somehow get her happy ending?
Don't miss a minute of the magic, watch Once Upon a Time online here at TV Fanatic. 
Check out the official ABC teaser for Once Upon a Time Season 4 Episode 13, which marks the show's spring premiere: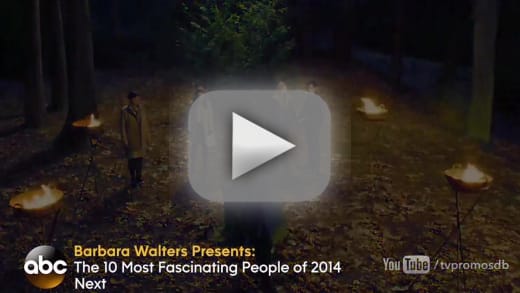 C. Orlando is a TV Fanatic Staff Writer. Follow her on Twitter.