Revenge Season 4 Episode 11 Photo Preview: Emily and Victoria Working Together?
Miranda Wicker at .
While some of us in the Revenge fandom hope Daniel Grayson's death is just a dream Emily Thorne is having while she's unconscious following her battle with Agent Taylor, The Powers That Be at ABC are revealing that's, well, a dream.
Daniel Grayson is most decidedly dead. We have the Revenge Season 4 Episode 11 photo preview to prove it. Take a look:
What else do these photos reveal?
Jack seems shaken up following the events at Emily's house, understandably so. He killed his quasi-girlfriend to save his childhood love/soulmate/OTP (weird, weirder, weirdest...) and he'll need some time to recuperate from that.
Will it make him question his decision to become a police officer? Maybe. But that's not the most interesting reveal in these pictures.
It looks as if Emily Thorne and Victoria Grayson are becoming...frenemies! While Victoria is most definitely not a fan of Emily, and while Emily is most definitely not a fan of Victoria, they now share a common goal: avenge Daniel Grayson. 
Neither of them want to admit it, but they're probably better off working together. 
An unholy alliance is forming, Revenge fanatics! Hold on to your hats!
What do you think about the Revenge Season 4 Episode 11 photo preview? Do you love the idea of Emily and Victoria working together? Will they ever be able to trust each other?
Sound off in the comments and start the countdown! The series returns January 4, 2015 leaving you plenty of time to watch Revenge online until then.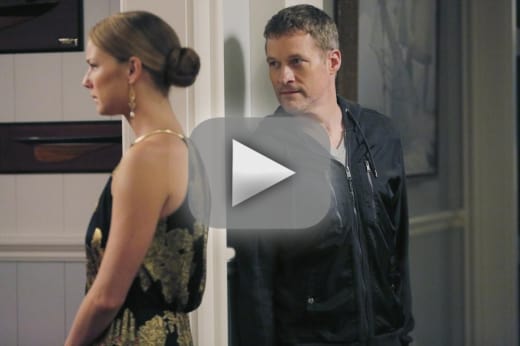 Miranda Wicker was a Staff Writer for TV Fanatic. She retired in 2017. Follow her on Twitter.