On The McCarthys Season 1 Episode 8 the family celebrated Christmas Eve by playing their annual white elephant game, aptly named the Red Sox swap. Good call there, Ronny!
It led to an all out battle between Marjorie and Katrina over an owl, and well, no battle for Jackie's gift - a certificate to be her baby's godfather. 
It's like a holiday zing-along in here!

Gerard
Katrina certainly brings out the worst in Marjorie, and, well, may just actually be the worst. She's taken mother/daughter-in-law bickering to a whole new level, and she's not even technically the daughter-in-law yet. There's still hope that she will be out of the picture and Gerard won't actually go through with the wedding. 
Every family has that tradition they partake in every year, and The McCarthys showcased just how neurotic families can get with their traditions. I appreciated the crazy white elephant game rules, and loved that Arthur still didn't know all the rules after all these years.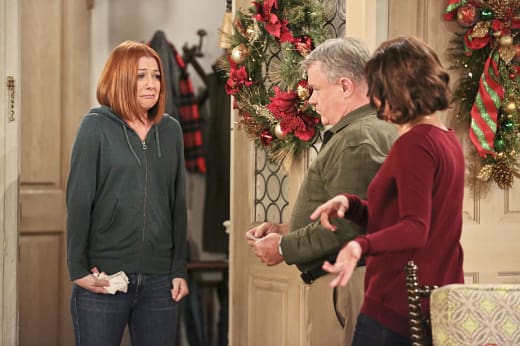 Guest star Alyson Hannigan played Pam. The McCarthys tenant who was a Debbie downer after her boyfriend broke up with her. Alyson Hannigan on television again was wonderful. I miss Lily Aldrin, but tonight's character didn't do her justice. She came across as very annoying and entirely too over the top for me. I get that may have been the point, but it just wasn't fun to watch. 
As usual, Arthur McCarthy once again stole the show. If you are dating someone who is a Red Sox fan, take Arthur's advice to heart:
This is a Red Sox house, we don't use the Y word here.

Arthur
The McCarthys took a step back tonight. We were back to a lot of cheap gay references, and besides a few quick laughs provided by Arthur and Marjorie, the episode fell flat. (insert gong noise) The only plus was that it managed to get me even more excited for the holidays next week.
You can get in the holiday spirit too, and watch The McCarthys online. Although, a pair of baby Jesus earrings may do the trick. 
What did you think of tonight's guest stars? What is your family tradition this holiday season? 
Share your comments below. 
Happy Holidays TV Fanatics. May your white elephant gifts be better than Marjorie's nut roll!
Krystal Sondel is a staff writer for TV Fanatic. Follow her on Twitter.