House of Lies Season 4 Episode 1 Review: At the End of the Day

Ariana Guzman at . Updated at .
Last season, Marty engaged in some illegal activity and ended up in federal prison after Jeannie went to the authorities.
This was after he finally admitted his love for her. Roscoe and Jeremiah had new relationships, Doug was dealing with marital issues and Clyde was dealing with a life spiraling out of control. 
House of Lies Season 4 Episode 1 fills in some of the missing pieces of what happened during Marty's brief incarceration. We get only a few answers, but I'm definitely looking forward to the rest being revealed over the course of the season.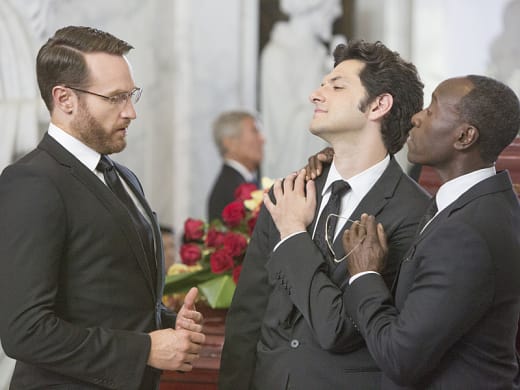 Jeannie is pregnant! I wondered how the show would handle Kristen Bell's real life pregnancy and now we know. The circumstances surrounding Jeannie's pregnancy, however, are murky at best. She's definitely hiding something – but what?
Kaan and Associates was hit very hard by Marty's arrest and subsequent prison time. Will they be able to fix this gigantic problem in order to save the business from bankruptcy? Let's find out!
Marty Kaan is back with a vengeance. His beloved firm is facing financial crisis and he's going to fight like hell to save it. He's not going down without a fight and he wants everyone to know it. 
I believe in the dharma of search and destroy. I believe in the dharma of take no prisoners. I BELIEVE in the dharma of kickin' ass. And yet at the end of the day, reality wins.

Marty
Because of these financial troubles, Kaan and Associates is now sharing an office with a start-up app company with employees all younger than those in the pod and so hipster Brooklyn is jealous.
Doug: My friend, a little tip? I would be nicer to them really because they're going to be stupid rich when their stupid app launches.
Clyde: The fact that we have to share a space with those douchey proto-facist mavericks makes me want to strap a bomb to my chest.
It's really nice to see Clyde back in fighting form. After his struggles with cocaine and getting back into Marty's good graces last season, it's good to see him back to his normal self.
It's crazy to me that someone like Jeannie is pregnant. Jeannie, the coldest bitch on heels is soon going to be a mother. Would the writers have ever done this if the actress not gotten pregnant herself? Probably not, but the pregnancy is going to allow us to see Jeannie in a new light, which will definitely be interesting to watch. 
Marty and the pod are still keeping it classy. Case in point, trying to land new client Ellis Gage Hightower (played by an almost unrecognizable guest star Demetri Martin), the bad boy CEO of an electric car company, while at a funeral. He's also doing some time for tax evasion. I guess all the drama with the gangstas last season led Marty and Co. to deal with white collar crime. When Hightower isn't busy not paying his taxes and presumably kicking puppies, he's also apparently spitting at dead guys in coffins because why not?
Jeannie and Marty had a roll in the... Oh no wait! They didn't. Knowing Jeannie, she probably hooks up with someone else to help her bruised ego. We indeed find out the father of her baby is supposedly a former college flame named Edwin who's now a successful lawyer and agreed to help her with the baby. But was anybody else suspicious of this story? It sounded like a story she made up. Could Marty really be the father or perhaps even Doug or Clyde? No, not Doug. Jeannie would never bang Doug, not even on her worst day. 
Back at Casa Kaan, Roscoe, Marty's son, is definitely pissed his only responsible parent went to prison. He tries to sell Marty some cock and bull story about buying a new Xbox with leftover guilt money his mom gave him. I wasn't buying that for a second. We soon find out that Roscoe is buying designer purses illegally and selling them for a profit. He's also discovered pot. To be young again... Only, I can't really relate to him since Roscoe is most definitely spoiled and always has been. He's acting out because his dad went to jail and his mom is nuts. I'm guessing this season will explore this rebellion further.
Jeannie wants nothing more than to apologize to Marty and make it all better. But how can you just forgive and forget the ex-girlfriend you were in love with who sent you to prison?
(to Jeannie about their relationship) I don't think that's really going too good... at all. I need you...for now. But I can't really get over everything that's happened. I'd like to. I'm trying to. But it's not happening... We need to just get through this transition and then you should leave for good.

Marty
It turns out Marty met Ellis Gage Hightower in prison. He wants Marty to get him out of jail. This will definitely be entertaining. As someone familiar with Demetri Martin's comedy, it will be great seeing a different side of the actor.
Jeannie: Is that Ellis Hightower, the electric car guy?
Marty: Yes, it is.
Jeannie: Shit... What do I have to do to get in here?
Marty: Commit a felony. Grow a penis. Wait a minute. I think you already did one of those.
Jeannie: Well, I'm gonna work on that penis.
This was a great premiere episode and it looks like the season is off to a strong start. You can always watch House of Lies online. Until next time Fanatics!
Ariana Guzman is a staff writer for TV Fanatic. Follow her on Twitter.