Jay Baruchel Previews Man Seeking Woman, Dating a Troll

Carissa Pavlica at . Updated at .
Man Seeking Woman kicks off tonight on FXX.
The sitcom stars Jay Baruchel as Josh Greenberg, who, within minutes of the premiere, is dumped by his girlfriend. Suddenly a new life is upon him. He's living on his own and thrust back into the dating pool.
There are a lot of shows currently wading in similar waters, but you have to trust me when I tell you there is nothing attacking the issue quite like Man Seeking Woman. Baruchel took the time to talk to reporters the other day. Find out below what he has to say about his new role.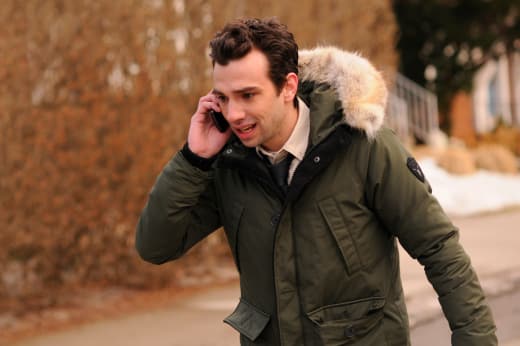 The show itself is very heightened, in the way it presents the situations Josh finds himself in, and yet Josh responds as the straight man instead of how a "normal" person would in similar situations.
When asked if the approach was beneficial to the type of show they're making, Baruchel responded:
"Yes, I think that the more sort of grounded and real or naturalistic, whatever word you want to use to describe it, the more that we keep our reactions in that realm, the crazier stuff we can do. I think if everybody was firing on all cylinders and constantly acknowledging the insanity in front of us the whole time, there would be no place for this show to go and it would wear itself out pretty quick.
I also think those two tones, kind of, they play defense against one another as well as heightening one another. I think our show can go all the crazier because of how sort of small and intimate and real it is and vice versa as well. So, yes, I think there is a massive benefit and I think the show would be way less funny if everybody was going crazy all the time."
Josh dates a troll. Yes, a real troll. Given how some of the women on the series are portrayed, does Baruchel think the series is feminist friendly? He gives it a hearty thumbs up. "I mean, listen, I think all of the characters, regardless of their gender, are pretty interesting and well-defined.
"There is obviously – because of the nature of our show, and how strange it is, there are some archetypal characters at different times but, yes, I think 100%, I think that as you will see, if you keep watching, the title even becomes malleable. Man Seeking Woman, it happens to be the story of a man, but I think the stories are pretty universal so it could very easily be Woman Seeking Man." 
As for any parallels between Josh and Baruchel? "Oh, always. Not just for him, but, ideally, for every character I play. I think if I don't find a way to see part of myself in any character I play then I'm sort of not doing my job completely. But yes, no, and with some guys I play, it can hit closer to home than others. I made it through the minefield that is being single in your 20s somehow. So I have, let's just say, I have plenty of experiences to draw upon for this. A lot of, yes, a lot of victories, defeats, ambitions, malaise, all sorts of – I have the whole panacea of living experiences I'd like to think that I can mine for this. But, yes, hopefully, any part I play has at least a part of me in him."
Does the show hope to uncover the myths of dating, explore awkward truths or a little of both? "Yes. I mean, I think it probably leans more to the second than the first, although we do try to sort of hit the nail on the head with some stuff. That being said, it's not meant to be a guide of any sort so much as it is meant to be, you know, when you're sitting amongst friends at a party and everyone just starts sort of venting and comparing shit experiences. It's meant to be that, but it's also meant to be a celebration of the beautiful stuff, too.
So it's like romance for lack of a better word – this whole stupid thing, there's nothing like it. You're happier than you'll be ever be. You're sadder than you'll ever be and, often, stuff in the middle. It's something that applies to each and every single one of us and so I like to think that when people see this thing they will see at least one thing they went through. Ideally, a whole bunch of things they went through because this show is about human nature and what it is to be single and to be one of these social animals we call humans."
Baruchel, as well as those of us who have been lucky enough to get a peek at a few episodes of Man Seeking Woman can't wait for the world to see it and for all the insane reactions to the humorous and downright weird sequences that are coming your way. Other than the troll, you can expect Hitler and a guest appearance by Michael Hogan in the second episode in a scene that will have you laughing out loud.
Find out what I think when we post a full review of Man Seeking Woman Season 1 Episode 1. See you then!
Carissa Pavlica is the managing editor and a staff writer and critic for TV Fanatic. She's a member of the Critic's Choice Association, enjoys mentoring writers, conversing with cats, and passionately discussing the nuances of television and film with anyone who will listen. Follow her on Twitter and email her here at TV Fanatic.