Vikings Season 3 Episode 1 Picture Preview: Power Corrupts

Henry A. Otero at .
We are exactly four weeks away from Vikings Season 3 Episode 1. Feels like ages since our favorite Vikings raided our television sets doesn't it?
If you thought Vikings Season 2 was intense, just wait till you get a load of what's coming up this year.
HISTORY has released several photos from the Vikings Season 3 Premiere. In them, we see the Vikings prepare to set sail for England, their reunion with King Ecbert and plenty more. Start counting down the days Vikings fanatics!
In the meantime, go ahead and flip through these photos from the season premiere below:
This season former farmer, Ragnar, is now King and heads back to Wessex to claim the land King Ecbert promised him. Can the English King truly be trusted or does he have another agenda?
Our restless hero continues to build his legacy by attacking the impenetrable city of Paris. How many Norsemen casualties will it take to pull this off? Any guesses which Vikings will be joining Odin in Valhalla this year?
Remember you can watch Vikings online via TV Fanatic to get yourself up to speed before the premiere.
Actually, it's the perfect time to marathon the first two seasons before the new season hits. That's exactly what I plan to do, the show gets better each time I watch it.
Listen to Ragnar share some words of wisdom about power with his son in the clip below: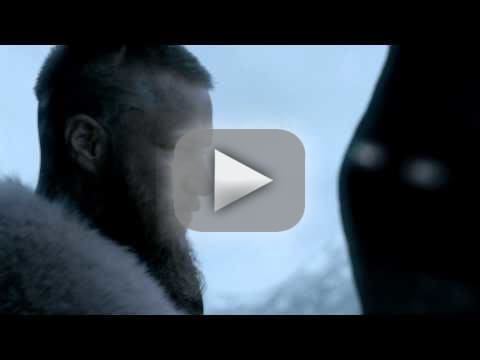 Vikings Season 3 Episode 1 is titled "Mercenary" and airs on Thursday, February 19 at 10/9c.