I honestly thought Captain Low was a series long threat, but Black Sails Season 2 Episode 3 proved me wrong.
This particular pirate seemed so vicious and psychotic that for a second I forgot just how ruthless Vane could be. It seems almost poetic that Low's out of the way and it's Captain's Flint and Vane that will fight to the death over Nassau.
Eleanor's choices surprised me, and I think Mr. Scott's words will come back to haunt her.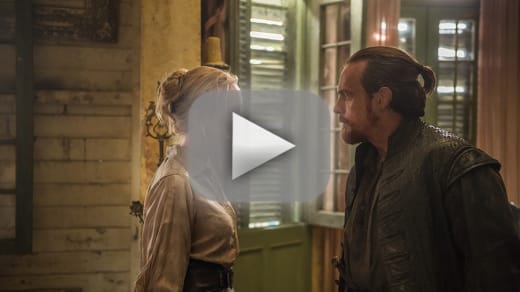 I've got to say, I am enjoying the Flint flashbacks tremendously! That younger man is almost the polar opposite of the Flint we've come to know.
Yes, we had heard plenty about Flint and Mrs. Barlow's intense love affair, but there's nothing quite like watching it take place. She pursed him pretty aggressively did she not? I don't think she was going to take no for an answer and Flint was powerless to resist her.
Captain's Vane and Low had two very intense meetings in this installment. However, until Vane's plan came together toward the end I thought their arrangement might work. Of course, that was ridiculously naive of me. These are pirates after all right?
I've made camp at Port Royal, Tortuga, Kingston. No matter where I've been one thing is true, there's always one. The one you don't cross. It would seem readily apparent, that in this place that would be you.

Captain Low
As Vane mentioned later on, Low's move was admirable and ballsy. He spoke the truth and left 10% of his take as a tribute. Even so, a blind man could see things were going to get ugly between those two. Again, I certainly wasn't expecting it would take place in the third episode.
Meanwhile, Jack's bed remained empty as the two ladies continued to enjoy each other well into the morning. Is Max the smartest person on that island or what? I loved the way she expertly manipulated Vane into granting Rackham a public pardon. It was a win-win for everyone.
By comparison, Eleanor seems to be making one mistake after another. What was she thinking threatening Mrs. Barlow? I thought Miranda handled the situation well, managing to put Eleanor in her place.
Every man has his torments. Demons born of past wrongs that hound and harass him. You perceive the effects of Captain Flint's demons; echoes of their voices. But I know their names. I was there when they were born. I know the things they whisper to him at night. So you can believe me when I tell you that within his chorus of torments, none of them look or sound like me.

Mrs. Barlow
Elsewhere, Captain Flint was already planning to return for the Urca gold. Isn't it impressive the way he thinks several moves ahead? Flint is a brilliant strategist, there's no question about it. I wrote in my notes (twice no less) how much I'm diggin' the Flint/Silver dynamic this season, so figured I'd mention it. It's also great to see the Captain trusting Silver, for now they make a good team.
Anyway, since the first season aired over a year ago, it feels at least that long since Vane took the fort. It was surprising to remember Flint and Silver had no knowledge of that fact and boy was he pissed. Eleanor was so happy to see him too, it's hard to imagine them on opposite sides. She pleaded her case, but it was a fairly weak one considering Flint was forced to sacrifice Gates for their plan.
The true shocker of the evening came when Captain Vane rowed up solo and boarded Captain Low's ship. I listened to Vane offer the other pirate a partnership, but part of me knew something was wrong. It just didn't seem like a move Vane would make. Low wasted no time in threatening Vane and had his men not snuck aboard, it might have been Vane's head on that spike.
The Vane/Low fight was brutal, but nothing compared to Captain Vane walking on the deck holding Low's head. That was an impressive image and again I never imagined Captain Low would meet his end so quickly in the season.
I'll be honest, it kind of bums me out because I was enjoying Tadhg Murphy so much as Ned Low.
One person that certainly won't be mourning Low's loss is Eleanor Guthrie judging by the way she jumped Vane's bones. And Captain Vane is sitting pretty on a 250k ransom for the Ashe girl. That's not going to go smoothly, plus Flint's on his way to reclaim the fort.
Nassau was unable to resist him, but we have yet to have our say. So, at sunrise tomorrow we make our terms clear, with no room for bargain or compromise. Charles Vane and the animals he commands have until sunrise tomorrow to vacate that fort or so help me God, I will reign holy hell down upon him.

Captain Flint
Okay, so what did you think of this week's installment? Did you imagine Captain Low would be killed off so soon? Will Eleanor regret taking Captain Vane's side? And will Flint manage to take back the fort in order to sail into Nassau with the gold? You're up mateys, hit the comments below and share your thoughts on tonight's Black Sails!

Don't forget you can watch Black Sails online right here at TV Fanatic!