Will confessed to grandma Kate, Daniel turned on Nicole, Eve dreamed of JJ and Clyde got shot last week in Salem. 
Our TV Fanatics Nick McHatton and Christine Orlando are joined by Melly and Sevenna92 from MyHourglass a Days of Our Lives fan forum to debate whether Will should tell Sonny the truth, Daniel and Nicole's breakup and if they'd prefer Clyde dead or alive after last week's Days of Our Lives.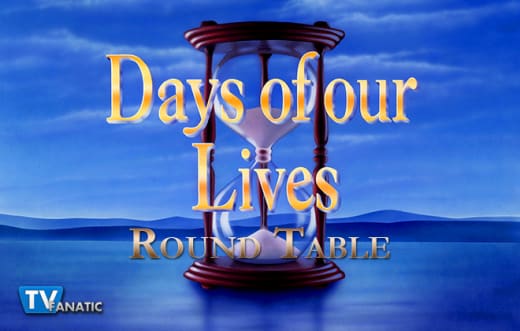 Should Will confess all to Sonny?
Nick: I'm torn about it. I would really love to see the aftermath of it all, and (perhaps) see unlikable Will get some redemption after screwing up completely, yet with the way the writing is going I'd rather Will be guilt ridden about his actions.
Melly:  YES. It will hurt Sonny to know that Will cheated, but better that Will tell him than he find out on his own--especially if Will wants to salvage this marriage. These two REALLY need some counseling.
Sevenna92:  Yes I think Will should confess to Sonny. It's not good for him to be keeping this from his husband and I think the longer he waits the worse it's gonna be. Sonny would be horribly disappointed and hurt that Will did this to him but if they really love each other, they can try to repair their marriage and work on their issues by being more communicative and open with each other, especially for Arianna's sake. 
Christine:  No. I think Will needs to get himself into therapy and figure out why he cheated in the first place to make sure it will never happen again. This will crush Sonny and possibly end their marriage. But the downside of not telling Sonny the truth is that someone else will. Either way, this is a no win situation and Will has done it to himself. 
Was Daniel right to break up with Nicole? Is she still in love with Eric?
Nick: Of course Nicole is still in love with Eric. Everyone but Nicole and Eric seem to know that they're in love with each other. As for Dr. Daniel freaking Jonas breaking up with Nicole, thank Salem Jesus that unholy alliance is off my screen. I'd rather Daniel just pine dramatically for Jennifer some more.
Melly:  This is a tough call. I don't like Daniel and Nicole together, in particular--I want them as friends. That said, I also hate to see Nicole dumped, again. And if she's still in love with Eric, she shouldn't be. Eric treated (and continues to treat) her horribly. (Yes, I know what she did was awful, but come on already!)
Sevenna92: No I don't think it was really right for Daniel to break up with Nicole. Nicole made a horrible mistake and was stupid not to follow up on this Ted guy. And yes I believe she's still in love with Eric and that is what largely motivates her to expose Serena's secret.
Christine:  I hope she's not still in love with Eric because he's turned into a whiny, mean-spirited jerk. As for Daniel, he and Nicole used to be friends but as soon as they got together it felt as though he was just waiting for her to screw up so he could break up with her. Nicole can do better than both of them. 
Is Eve more worried about Paige finding out or about the temptation to sleep with JJ again?
Nick: One time is a mistake, the second time starts heading towards habit. Eve is worried about Paige finding out, there's no question there, but she's more worried about wanting to get some more JJ.
Melly:  I think Eve's feelings are mixed. She doesn't want Paige to find out what happened (I'm not convinced of her motives, though) and she does want to avoid sleeping with JJ...but she also clearly (ahem) enjoys JJ. Frankly, I just want this storyline to be over. If Days wants a cougar storyline, that's ok--but one that has the potential to mess up a mother/daughter relationship bothers me for some reason.
Sevenna92: I think Eve's more worried about Paige finding out about her affair with J.J. because if that happens, that's going to cause so much damage to the relationship and they may never be able to reconcile. I think part of her might also be worried about her being tempted to sleep with J.J. again. 
Christine: It's become interconnected. She doesn't want Paige to find out but the more she's around JJ, the more she wants it to happen again, which makes it all the more likely Paige will find out. I so wish Paige would slink off to Stanford. She's the most boring part of this story. 
Is Clyde really dead and if so, will you miss him?
Nick: Nope! He can take his boring self and, if we're lucky, Snoredan too.
Melly:  I very much WANT Clyde to be dead, as there is nothing about this storyline that I find entertaining--except the possibility of seeing the old Victor Kiriakis back! But, no, I'm certain Clyde is alive and well.
Sevenna92: No I don't think he's dead and if he was, I wouldn't miss him. I know it sounds horrible but I would be so happy if he was really dead because the guy was scum.
Christine:  I'd love it if Clyde were dead but I'm fairly certain he's not. I'm with Nick on this one. They can take Clyde and his horribly boring step-daughter and get rid of both of them any way they want. I just want them gone. 
Should Jordan give Chad a second chance?
Nick: Not at all, Chad is a mess and more DiMera every day. I would rather Chad try to get back with Melanie or Abby so history can start repeating itself for a new generation.
Melly:  Jordan should just drop Chad. They've little in common to establish a long-term relationship. Besides, I want to see Chad with someone edgier than Jordan.
Sevenna92: No because he's a jerk and he was the one that egged Ben on and got him into trouble. And honestly I don't believe he deserves Abby either.
Christine:  Chad showed his true colors here. Jordan should dump him for good and if she doesn't she's more of a fool than I already thought she was.
Was there anything that disappointed your this week in Salem?
Nick: Overall, it's just a very bland week. I'm glad to see Will and Kate share some time together, but it's nothing to really write home about. Days is very boring at the moment.
Melly:  The Eve/JJ/Paige storyline is disappointing because it's still happening. I'm over it, and I hope the writers move this one along quickly.
Sevenna92: Oh yeah. Where do I start? Ted/Serena/Eric/Daniel/Nicole was such a huge letdown I can't even begin to describe, Chad's revenge against Abby is so lame, Brady and Melanie are such a joke as a couple and I hate how they're trashing Theresa just to make Melanie look good.
Christine:  All of Salem bashing Nicole once again while making Serena out to be a saint was stomach turning. And why can't we get more than one or two scenes a week with Hope and Aiden? Why is Salem's most charming couple being short changed?
What was your favorite scene or story line?
Nick: There's some definite potential with Theresa and Clint, and the mystery of it all, there's some fun that could potentially be had while we wait for Kristen and a potential baby to show up.
Melly:  Hope/Aiden is my favorite at the moment. The writers have been dragging this one out, but the trip to the beach house should be an interesting one!
Sevenna92:  I really can't pick any particular favorite because this week was so abysmal but I liked Melanie and Theresa's exchange on Thursday's episode and how Melanie said that she's not sure which side of Theresa she'll get. That was interesting. 
Christine:  Victor walking in on Brady and Melanie. Victor's reaction was perfect. It was both funny and sweet and thankfully stopped Brady and Melanie before they went too far. 
C. Orlando is a TV Fanatic Staff Writer. Follow her on Twitter.