Person of Interest Season 4 Episode 14 Review: Guilty

Sean McKenna at . Updated at .
Sometimes, after all the chaos and big mythology of Person of Interest, it is nice to take a step back and focus on just a number of the week. Even if that means partaking in a little jury duty.
It's interesting to think how far the series has come, especially in terms of the team and the larger scale enemies, so to place Person of Interest Season 4 Episode 14 back on Reese and Finch's shoulders had a touch of old school to it.
Plus, getting Finch out of his subway lair to take more of a lead role is always a plus. It's not always the action moves that save the day.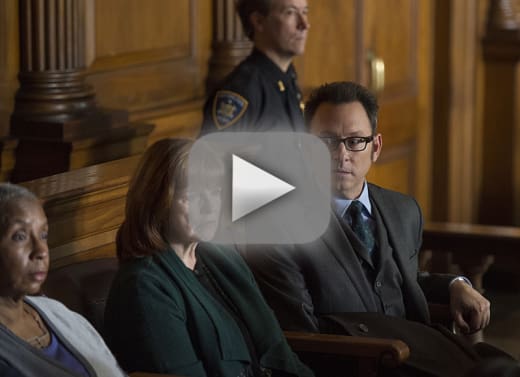 Just take his speech as Emma was about to jump from the balcony. He didn't need hand-to-hand skills (though during the attack from the real culprit after would have been handy, but that's what Reese is there for), but rather his sincere communication was able to get the job done.
And that's what I love, no matter the circumstance, Finch and Reese continue to do everything they can to save and help people.
Of course, a little help from the always favorite Zoe can make a case that much more fun. She's such a playful and flirtatious character, especially with Reese, that she adds a certain vibrancy when she appears. Considering all the seriousness that's surrounded the POI team, her upbeat demeanor was a good addition for the hour.
Who doesn't like to see Reese get a little banter on with Zoe? I definitely missed her character.
I'm not surprised that the loss of Shaw, and technically Root, was weighing on both Reese and Finch.
I felt bad that Fusco wanted to help, but Reese kept pushing him away. Not because he doesn't want Fusco to help, but because he fears losing another person.
So to get those therapy sessions with Reese opened him up beyond the badass fighting machine that he is. And I was glad that he wanted to go back on his own.
To see him smile, to mention his father, to reminisce about his past was a fantastic look into his character. Just to see him talk about losing someone, about the fear of losing more was so revealing. It made his therapist's response about breaking some habits and love being something everyone needs such a great nudge in the right direction.
It also really made Fusco's declaration about not being kept in the dark that much more of the push Reese needed to want to bring Fusco into the fold. Fusco may be somewhat bumbling and goofy, but he's dedicated, his heart is in the right place, and he's eager to help people. That's exactly what the POI team needs, and I'm glad that Reese was able to change his mind and let Finch know.
I am curious what the three missing men connected with Elias means in regard to the rest of Person of Interest Season 4. Are we headed back to some more Dominic and Elias turf battles?
This hour definitely had that early season Person of Interest vibe, and there was some decent suspense in who was behind the rigging of the jury. Of course Reese and Finch were able to save the day, but I also liked the recognition that during all the Samaritan stuff that they had missed numbers and failed to save some people.
But it looks like Reese and Finch aren't looking to stop anytime soon. Though, I'd probably suggest Finch refrain from shouting out about supercomputers trying to take over. Unless he gets called to jury duty again.
What did you think of the case of the week? Will Fusco finally learn about the Machine? Sound off below, and be sure to catch up on the POI team's fight against Samaritan when you watch Person of Interest online.
Sean McKenna was a TV Fanatic Staff Writer. He retired in May of 2017. Follow him on Twitter.