Person of Interest Season 4 Episode 15 Review: Q&A

Sean McKenna at . Updated at .
For a show that could easily be predicable and formulaic, I've enjoyed that Person of Interest continues to try and switch things up and keeps providing moments of real suspense and surprise.
It's been nice going back to that old school vibe of Reese and Finch leading the case of the week. Of course, I've enjoyed the expanding POI team, but there's something about the original two that just feels classic.
Reese and Finch definitely have a great rapport, and we've seen countless times that whether they are in the lair or out in the field, both characters can shine. And they do again in Person of Interest Season 4 Episode 15.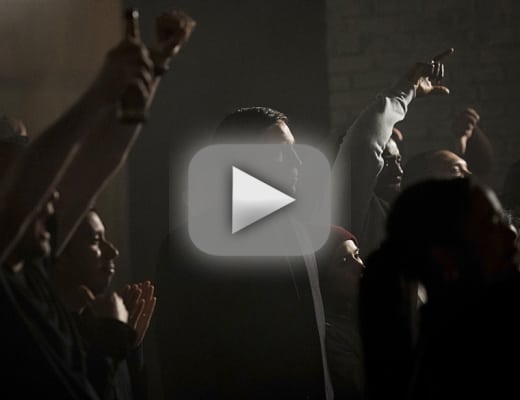 Even with that classic feel, the hour still had that sense of raised stakes and recognition that the characters involved aren't the same ones as in the early seasons of Person of Interest.
Reese, Finch, Fusco, Root, etc., have grown and evolved. Of course, so have their enemies.
It was a great twist to bring back Claire (the hacker from Person of Interest Season 4 Episode 2) seeking Finch's help. Maybe because she did get shot, but it wasn't until much later in the hour, about when Finch started his interrogation, that I even thought to suspect that she was still working for Samaritan.
She tried to take advantage of Finch's desires to help others and, yet, she was so convincing that I wasn't surprised Finch tried to stay.
I loved how hesitant he was in putting in the drive, at the same time she was adamant about being the "good guy." I was engaged in that story, not sure which way it would wind up going.
I actually liked that Claire turned out to be working for Samaritan, something I didn't expect, even going so far as to naively try and convince Finch of Samaritan trying to do good.
It certainly made his counter about what it would be willing to do to others to get its way (that means for a good cause like Greer mentioned) that much greater of a move. I love how wary Finch is against Samaritan, almost sounding disappointed that such a promising young mind could be easily swayed.
Plus, c'mon, Claire, does it really seem like you're on the right side when a group of guys with guns show up to escort Finch after he chooses not to join your team?
Maybe she will see the error of her ways?
Or maybe Root takes her out for good.
It was fun seeing Root return right in the nick of time, almost rejuvenated on a new mission, to save Finch. She certainly didn't detract from the Reese and Finch story, but rather felt like an added bonus to cap off the hour.
It also was funny that Reese, who was running the number of the week, felt out of the loop.
His case interestingly wound up connecting to Samaritan because of the technology, but that shouldn't have been that much of a shock.
I liked that Reese managed to get in some great action scenes and a little help from Fusco. Reese may do some great work on his own, but Fusco has definitely stepped up time and again.
When will Fusco learn about the Machine though?
This episode, while giving Reese and Finch their lead spots, found a way to give us both a number of the week and intertwine back towards that bigger story. Another solid outing for the series that keeps me eager and invested to see what's next, whether it is that number of the week or bigger story.
Just knowing that Reese and Finch are still leading the charge no matter what obstacles are put in their way is a definite plus.
Were you surprised Claire was still working for Samaritan? Sound off below, and catch all the classic Reese and Finch episodes when you watch Person of Interest online now.
Sean McKenna was a TV Fanatic Staff Writer. He retired in May of 2017. Follow him on Twitter.