The Musketeers Season 2 Episode 7 Review: A Marriage of Inconvenience

Lindsay MacDonald at . Updated at .
If this episode taught us anything, it's that medieval identity theft is nothing to turn your nose up at.
This week on The Musketeers Season 2 Episode 7, our heroes must protect the king's cousin, Louise, before assassins can put an end to her arranged marriage.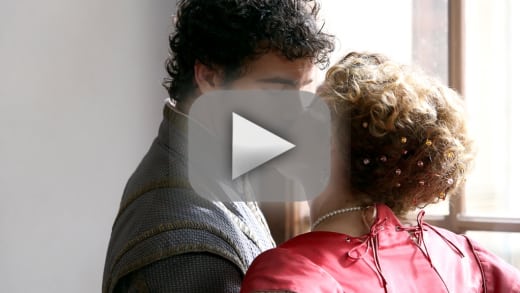 I have to say, I did not see it coming that Louise was not in fact Louise. What a twist. Her footman was always sketchy, but Louise and her friendship with D'Artagnan seemed so genuine. She actually seemed genuinely nervous and frightened of this arranged marriage and what it could mean for her. I guess I'm not a very good judge of character.
This marriage is my death sentence.

Louise
Rochefort just gets more and more menacing as the weeks go on, first sending Treville to his death, and then snooping around Aramis and his crucifix. I feel so bad for Marguerite. Not only did she give her virtue to a man who never really loved her, now she's being blackmailed into spying on her queen. And now that Rochefort knows there's something between Aramis and Anne, it's ten times more dangerous for all of them.
We can only hope that Marguerite turns out to be a lousy spy, or Anne and Aramis decide to be way more careful about their displays of affection. 
Now that Rochefort is the king's first advisor, he's more dangerous than ever. Though you had to love that last shot of the Musketeers refusing to bow to him, despite his new position. Fight the power, guys. 
Milady was ousted from the palace this week, and she seems to be in dire straights. No money or prospects to keep her in the comfort she's accustomed to. And if she truly has decided not to be a killer anymore, then her life looks gloomy. Hopefully she'll be able to use this new information about Rochefort to her advantage. Milady always did know how to use a good secret.
The biggest news of the night was of course the shocking death of Monsieur Bonacieux. 
Now that Constance's husband is dead, she should be free to marry D'Artagnan instead of leaving her husband and being shamed by all of Paris' polite society. The timing seems morbidly perect. But Bonacieux's last words might hang over D'Artagnan's head, putting another wrench in their plans. Knowing a man used his last breath to curse your new relationship kind of puts a damper on things.
It appears as though we may finally be getting answers about Porthos' father next week, after an entire season of build up. I can't say I'm all that interested to find out, beyond not having to hear about it anymore. I reserve the right to change my mind though if his father ends up being someone super juicy.
Who do you think Porthos' father is? Will Rochefort find out about Anne and Aramis? Leave your guess in comments below!  
Don't forget to watch The Musketeers online via TV Fanatic to see all the madness again!