Black Sails Stars Speak on Bonny Losing It, Max's Power & More
Jim Halterman at .
[Spoiler Alert: Do not read ahead unless you've seen last night's episode of Black Sails on Starz. Major plot points discussed ahead.]
On Black Sails Season 2 Episode 4, Max (Jessica Parker Kennedy) was speaking to Jack Rakham (Toby Schmitz) about how Anne Bonny (Clara Paget) had been spending time with her in her bed and Rakham didn't have the kind of pull on her he thought he did.
You'd be amazed what can change in a week in my bed.
Truer words were never spoken because we've seen Bonny spiral in unexpected ways ever since she fell under Max's seductive spell and, once Rakham joined them in the sack, Bonny was thrown again once she saw Max and Rakham make a connection in bed.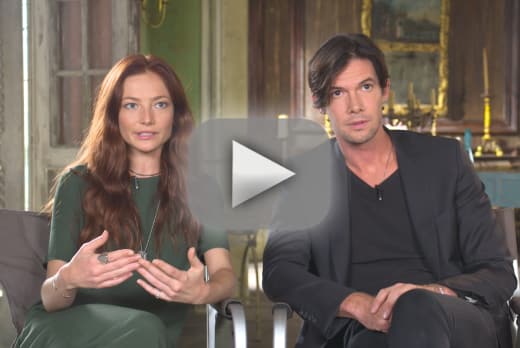 Shortly thereafter, Rakham gained the chance to captain his first ship but had to tell Bonny, who had been by his side for years, that she was not invited. That and the building of everything else finally culminated in Bonny committing murder in Max's bordello. 
Thankfully, I was on the Black Sails Season 2 in Capetown, South Africa last month and had the chance to talk to Paget and Schmitz about the state of their character's relationship, how Rakham is dealing with being Captain of his own ship and, also defining Bonny's sexuality.
Click above to see what the stars had to say.
Black Sails Season 2 airs Saturdays at 9 p.m. on Starz.
Jim Halterman is the West Coast Editor of TV Fanatic and the owner of JimHalterman.com. Follow him on Twitter.