In just a matter of weeks, Game of Thrones Season 5 will be upon us - and word is it's going to be a devastating run. Are you prepared to return to the Seven Kingdoms?
The first few episodes have Stannis Baratheon arriving at the Night's Watch, Cersei losing her grip on King's Landing, Arya setting out on a mission to find an old friend, Tyrion discovering a cause of his own and plenty more.
HBO has released official descriptions for the first three installments; check them out below.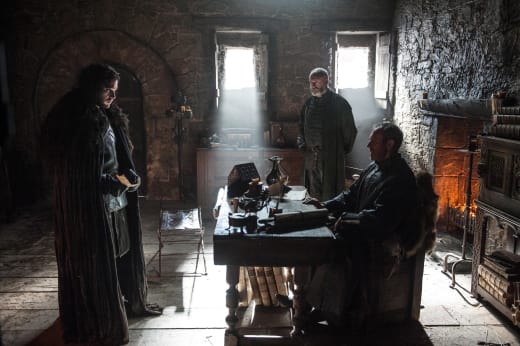 Game of Thrones Season 5 Episode 1: The Wars to Come (Sunday, April 12) - Cersei and Jaime adjust to a world without Tywin. Varys reveals a conspiracy to Tyrion. Daenerys faces a new threat to her rule. Jon is caught between two kings.
Game of Thrones Season 5 Episode 2: The House of Black and White (Sunday, April 19) - Arya arrives in Braavos. Pod and Brienne run into trouble on the road. Cersei fears for her daughter's safety in Dorne as Ellaria Sand seeks revenge for Oberyn's death. Stannis tempts Jon. An advisor tempts Daenerys.
Game of Thrones Season 5 Episode 3: "High Sparrow" (Sunday, April 26) - In King's Landing, Queen Margaery enjoys her new husband. Tyrion and Varys walk the Long Bridge of Volantis.
Game of Thrones Season 5 premieres Sunday, April 12 at 9 p.m. on HBO.