The Following Producer Teases End of "Joe Carroll Chapter," New Challenges Ahead

Stacy Glanzman at . Updated at .
Who's excited for a new season of The Following?
The Following Season 3 premieres TONIGHT and Executive Producer Brett Mahoney recently participated in a conference call with the press to tease the upcoming season.
So, what did Mahoney have to say about what viewers should expect?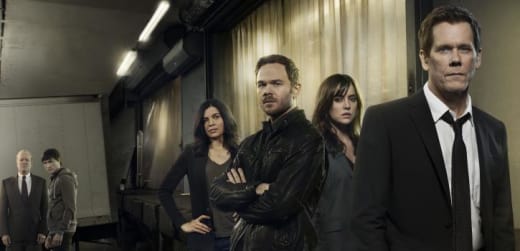 For one, Mahoney mentioned that "we are coming to the close of the Joe Carroll chapter and that's so challenging in the sense that Joe Carroll was such a pivotal part of the show, but what it gave us an opportunity to do is sort of shift focus and go back to a great asset that we had in the show in the terms of Kevin Bacon and really making the show more Ryan Hardy-centric and more focused on our hero." 
Of course, our hero will be facing new challenges this season both in terms of new villains and a new relationship.
When asked about the latter, Mahoney explained that Ryan "is truly in love, and it's a healthy relationship. It's the first time we've seen him in this type of relationship. The question is does he feel that he's worthy in terms of does he deserve this and can it work?" 
Mahoney poses a good question, doesn't he? Ryan has a habit of pushing the people he cares about away, let's hope that doesn't happen with Gwen!
Where Ryan is happy in love, Mike is not so lucky, though that was his choice. "He made the choice to go and search and try and find Mark. He kind of gave up the chance to have a normal relationship because of his obsession with revenge and that has taken him to some darker places than we've seen him previously and it sort of colored who he is and that's his struggle for this season." 
Since Mahoney touched a little bit on Ryan and Mike's paths for the season, I asked him about our third main hero, Max and her upcoming struggles: 
"What I love about the character is that Max is a good FBI agent and she wants to follow the rules and she wants to do things the right way and I think that's important, particularly in our world where we have some our heroes so willing to bend and break the rules, which is something we're sort of dealing with this season." 
He went on to say that "in terms of Max's journey we're going to take her some places this season where we're really going to test her and test whether she's willing and what situations she would be willing to bend and break those rules. " 
Well, we've already seen the lengths Ryan and Mike are willing to go to, but it will definitely be interesting to see where Max draws the line. 
The Following Season 3 Episode 1, "New Blood," airs tonight on Fox at 9/8c.
Stacy Glanzman was a staff writer for TV Fanatic. She retired in March, 2019.