The Following Season 3 Episode 1 Review: New Blood

Stacy Glanzman at . Updated at .
The Following Season 3 is off to a surprisingly promising start.
For the most part I've found The Following to be entertaining despite (or in many cases because of) the ridiculousness of the story telling, but I found The Following Season 3 Episode 1 to be legitimately good.
I for one did not miss Joe Carroll at all and would be perfectly happy if we never see him again, however unlikely that may be. Mark and Luke were much more compelling villains and the saving grace of last season, so I'm glad to see Mark is now in charge.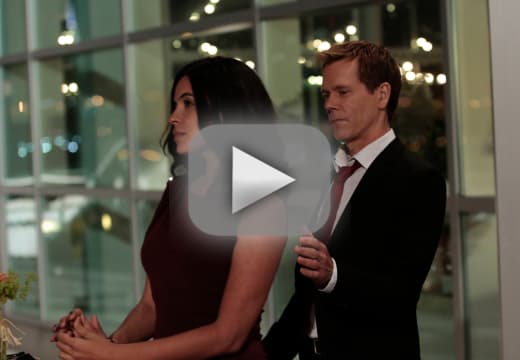 Mark has always been crazy, but it looks like he's been pushed even further off the deep end. Now he's talking to himself as his dead brother and having dinner with a mirror. Sam Underwood had to play two separate characters last season, now he's playing them both inside Mark's head. He really is a fantastic actor, isn't he?
The story picks up one year after the events went down at the compound and everyone seems to be pretty happy. Ryan has a new girlfriend who I'm already worried about, Max has moved on from Mike with a new guy and has joined the FBI, and Joe is on death row. Mike on the other hand has spent the last year unsuccessfully chasing Mark.
I like that Max is an FBI agent now. She was a great addition to the cast last year and Jessica and Kevin play well off each other. Becoming an agent means she'll be in the mix more, which is good since it's clear Mark has targeted the main trio.
Mark staging the crime scenes to mirror the actual events of last season, complete with doppelgangers, was insanely creepy. I found it interesting the messages left at the crime scenes called out Ryan and Max by name, but not Mike.
Who are these new followers? We finally learn that it was Andrew who picked up Mark at the end of last season, but we don't know much about him. I'm guessing he's a favorite uncle?
I'm actually much more interested in the couple and why they're part of Mark's new crew. How did they get involved? What's in it for them?
It's nice to see Ryan happy for a change, but what's going on with Max? Is she developing her Uncle's drinking problem? Will it cause her to spiral out of control by season's end? Hopefully Uncle Ryan will notice the signs before it gets too bad.
So what did everyone think of the premiere? Is the show back on track after being on shaky ground the second half of last season? I say so far so good, but hopefully it doesn't collapse again.
I am looking forward to seeing what Mark has in store for Ryan, Max, and Mike as revenge for killing his family. We know there will be deaths, but will they all be secondary characters or could we lose one of the main ones? Obviously we're not losing Ryan. I can't see them killing off Max either since she's his last remaining family, but I don't know if I'd consider Mike off the table. It would be shocking, but I could see it happening.
If you missed any of the action you can watch The Following online any time and get caught up.
Stacy Glanzman was a staff writer for TV Fanatic. She retired in March, 2019.