The Musketeers Season 2 Episode 9 Review: The Accused

Lindsay MacDonald at . Updated at .
Poor Doctor Lemay... we hardly knew you. 
With such a fast-paced, action-packed episode, it's hard to know where to start. All I can say is that The Musketeers Season 2 Episode 9 delivered in a BIG way.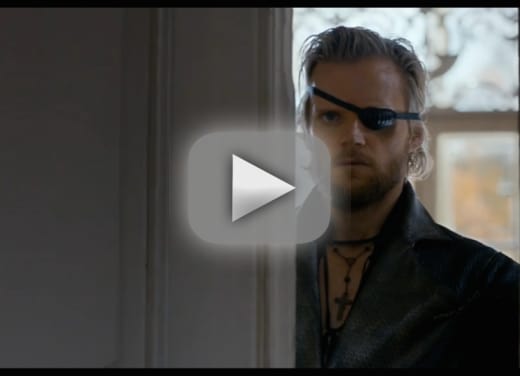 The topic on everyone's minds (and lips) for the next week is definitely going to be that super passionate kiss shared between Athos and Milady. After finally, finally having an open and honest talk about their past, Athos and Milady's confined quarters forced them to confront that chemistry still bubbling between them.
I've always loved this couple for their twisted dynamic, and it was reassuring that even Catherine could see the feelings still left between them. 
Catherine: It's written all over your face. You're still in love with her.
Milady: My god, does she never stop talking?
We'll have to wait and see if Catherine makes another attempt on Milady's life, or if that kiss is brought up again. I did love to see Athos and Milady working together though. Their witty repertoire is to die for. 
Anne's journey took a turn for the worse, as apparently Rochefort took her rejection a little harder than expected. Most guys that get friendzoned don't try to frame you for treason, but such in life in the royal court. Anne's decision to flee the palace was a brave one, but nowhere near as brave as the decision to return. 
Her son and her husband and her country are all at stake, and Anne's resolve to face Rochefort was a big move, for better or for worse. That is one strong woman. 
We also got some amazing moments between Anne and Aramis. I'm a sucker for their forbidden romance, and it was amazing to see them both finally verbalize what has only been hinted at all year: The dauphin is Aramis' son. 
Won't you save yourself for my sake? For the sake of my son? Our son.

Anne
Saying it out loud somehow makes it ten times better and ten times more dangerous. Funny how that works. 
My favorite moment of the episode came from Porthos though. His outrage over Aramis' relationship with Anne only came when he revealed that it resulted in an illegitimate child. It's understandable, considering his recent run in with his own dead beat father. And he made a good point... for Anne's safety, Aramis can never be that child's father.
Athos: If Rochefort's advances to the Queen are treason, what does that make yours?
Aramis: Love.
Athos: I'm sure the King will appreciate the difference.
Rochefort's villainy came to a dangerous climax tonight, when he had Marguerite poison the King. 
Poor Marguerite. Some of you might be a little angry with her over her recent betrayals, but I just can't help but feel sorry for her. She's caught in the middle of a coup, and she's terrified of Rochefort and what he'll do. She might have passed the point of no return &ndash and forgiveness &ndash but I still feel sorry for her. 
Someone who probably deserves my pity more is Constance. Watching Lemay die for a crime he didn't commit was horrifying, and it will only get worse for her if the promo for The Musketeers Season 2 Episode 10 is any indication. It shows Constance kneeling under that same knife, preparing to die. Is anyone else panicking?!
I'm certainly sweating it out now that Anne, Aramis, and Constance are facing the chopping block! Let's hope Porthos makes it back with help in time, or our favorite characters might be in big trouble. 
Relive that amazing episode when you watch The Musketeers online via TV Fanatic.