It was a whirlwind of information on Castle Season 7 Episode 20 that kept our heads spinning as Rick Castle searched for answers concerning his missing two months last summer and why he was abducted on the day of his wedding. 
When a series of recurring dreams won't let Castle completely forget what happened, he turns to Beckett's therapist, Dr. Burke for help.
The good doctor puts Castle under hypnosis so he can remember all the details of his dream which include an old trophy, a man from his past, someone getting shot, a truck chase through the jungle and being saved by a Chuck Norris look a like.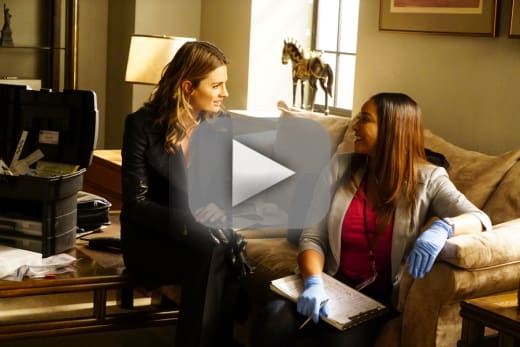 Was the dream odd? Definitely but the more important question was, was any of it true. Trying to find those answers had Rick Castle become obsessed with his own investigation even as others may have questioned his sanity.
Thankfully, Kate Beckett remained in his corner the entire time. But when a Russian assassin for hire starts killing off the people in Castle's dream, is it safe to continue the investigation or should Castle let sleeping dogs lie and go back to his happy life with Beckett?
You can watch Castle online any time right here at TV Fanatic. 
C. Orlando is a TV Fanatic Staff Writer. Follow her on Twitter.