I'm very upset.
On Dancing With the Stars Season 20 Episode 7, there were several fun performances, a dance-off round, and an incredibly shocking elimination.
The "Eras Night" theme offered some great opportunities for entertainment, though in some cases I think those opportunities were lost. Some of the dance styles and music choices weren't quite as thematic for their respective themes as they could have been.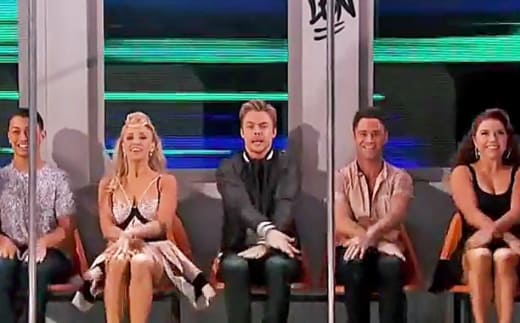 Rumer and Val's Jive was my favorite dance this week. I still think there's a good chance they could win this entire competition. It's not just that Rumer has proven to be a strong dancer, but she also has a great attitude. She dances with a genuine smile on her face, and it's obvious how hard she's working. It also doesn't hurt that Val is clearly motivated as her coach this season. I'd love to see him finally win that mirror ball trophy.
My second favorite dance came from Nastia and Sasha. There's was a really fun routine, and I also appreciated the fact that Derek, despite not actually being able to dance with his partner, still participated in the dance as much as he was able.
I love the idea of the top scoring couple receiving immunity. Honestly, I think that's something that should happen every week. I also love the idea of the dance off. Something about that idea just makes the competition feel fairer, not to mention the fact that it adds an interesting element altogether.
Speaking of fairness... This week's elimination was definitely a surprise. All of the couples in the bottom this week have been among the best of the competition. Between Rumer and Val, Riker and Allison, and Willow and Mark, there was no good choice for a couple to go home. So who was eliminated?
Willow and Mark were sent home this week, and I strongly believe it's the wrong choice. Period. They have been among the best all season long, with creative routines and really great dance moves. Willow and Mark have gotten strong scores nearly every week, which were always well-deserved.
This is when these sorts of competition shows become frustrating. As much as viewer involvement is a nice touch, I think viewer votes count for too much.
Another option? How about a different kind of dance off? There was at least one season where the couples in the bottom were able to dance off, with the judges choosing based on that who would go home. Granted, all of the couples in the bottom tonight deserved to stay on the show, that option wouldn't exactly fix the issue.
Other Thoughts:
Noah's pelvic thrust was definitely one of my favorite moments of the night.
I find it incredibly fascinating how Twitter chose a different winner for the dance off between Riker and Allison and Willow and Mark. Twitter chose Riker and Allison by a high margin, but the judges were unanimous in choosing Willow and Mark. I guess that also shows why Willow and Mark were sent home. Sigh.
How cute are Robert and Kym? There is obviously more going on there than their relationship as dance partners, and it's adorable.
What did you think of this week's competition, and how do you feel about that elimination? Share your thoughts in the comments below!
Here are this week's scores!
Nastia and Sasha (90s Jive): 38
Riker and Allison (20s Quickstep): 37
Willow and Mark (Futuristic Jazz): 37 +2 -- ELIMINATED
Noah and Sharna (70s Jazz): 36 +2
Rumer and Val (60s Jive): 35 +2
Chris and Witney (40s Foxtrot): 31
Robert and Kym (80s Argentine Tango): 31
Ashley Bissette Sumerel was a staff writer for TV Fanatic. She retired in September 2017. Follow her on Twitter and on Google+.