Once Upon a Time Season 4 Episode 18 Review: Heart of Gold

Christine Orlando at . Updated at .
With the author on the run, I thought that Once Upon a Time Season 4 Episode 18 was going to be all about hunting him down. I couldn't have been more wrong.  However, it did start out that way as everyone ran through the woods giving chase to the man looking to make a quill. 
At least David and Mary Margaret told Emma the truth about their past meeting, not that it made Emma feel any better. She was still reeling from everything she'd just learned…
I am only the savior because you altered the entire state of my being at the expense of someone else's soul.

Emma
Yeah, that's kind of hard to explain away and is probably a massive blow to Emma's self esteem. Is she the savior because that's who she was always meant to be or is it simply because her parents doomed someone else to a life of darkness?
Emma has always had issues with her own identity and trusting others. This will only feed those insecurities. 
But the biggest surprises took place in New York City where Mr. Gold ran into Robin and Marian weeks earlier. 
We've known that something was wrong with Gold for a while and many suspected it had to do with his health, but now that he's back in a world with magic, doesn't that negate the darkness that's damaged his heart? 
When Marian first mentioned letting Gold die, I began to wonder if her being transported to this world had changed her. Did she no longer have the same sense of honor that Robin still possessed? That would have made for an interesting story all on it's own, but the truth was far more shocking.
Marian wasn't Marian at all, but Zelena. I never saw that one coming. I love it when a storyline can truly surprise me. 
Although I'm sure some will view it as rewriting history, I prefer to see it as a long term story arc. The explanation made sense. We never knew where Zelena went when Gold "killed" her, but I always suspected she didn't die. And as horrible as it sounds, Marian's death does give more hope of a Regina and Robin reunion, that is if Zelena doesn't kill him first. 
One of the things I enjoyed the most in this episode was Mr. Gold. Lately he's come across as a rather one note character. "Heart of Gold" was a reminder of how complex he can be, particularly as he told Robin in this Once Upon a Time quote…
Maybe you should take a piece of advice from a man who has pushed away every chance of happiness because it was never enough. If it's within your grasp, if you know where it is and who it's with, then you should run to it, grasp it and never let it go.

Mr. Gold
Yet within weeks he was using the love between Regina and Robin to blackmail her into doing his bidding. 
Kudos to Lana Parrilla as Regina. When she got off the phone with Zelena, she didn't need words to convey her rage. If looks could kill, Gold would have been a pile of cinders and the scorched earth would have gone on for miles. 
My only disappointment was that I wished we could have indulged in the replay of Robin and Regina's goodbye kiss a little longer. 
Will Regina find a way to save both Robin and Emma? What will the Author do when he gets his hands on that magic quill?
Check back next week for our review of Once Upon a Time Season 4 Episode 19 and if you can't wait a moment to experience the magic you can watch Once Upon a Time online here at TV Fanatic.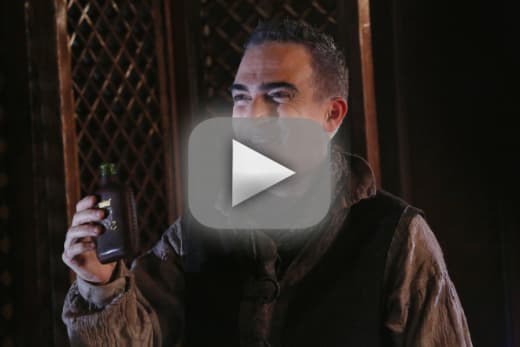 C. Orlando is a TV Fanatic Staff Writer. Follow her on Twitter.