It's America's Choice, and sparks are flying!
On Dancing With the Stars Season 20 Episode 8, the couples danced in two rounds. The first round included dance styles, songs, and costumes that fans helped choose. Then, the couples each brought on another professional dancer for the always exciting trio round.
Perhaps the best news of all is that there were no results tonight. Instead, we'll have a separate results show tomorrow night (finally!) which will include a double elimination.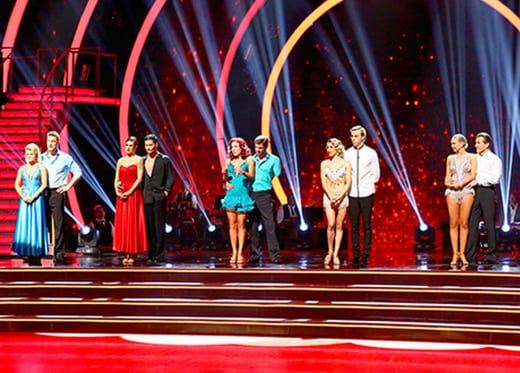 So many of tonight's dances were really well done. but my favorites came from Riker and Allison in both rounds. Their Viennese Waltz was absolutely incredible, and I couldn't take my eyes off of their trio dance. Can we please get an encore of this one?!
Len complained that they weren't in hold enough for the Viennese Waltz, and that the routine was a little too much about showmanship. I do think that special effects and things like that can distract from the dances themselves sometimes, but we've learned that the couples have to work hard not only to earn judges points, but also viewer votes. And viewers are going to want to see the more creative routines.
Rumer and Val are also at the top of my list. They were flawless and captivating in both of their routines tonight, and that Rumba was beautiful.
It's unfortunate that Derek isn't able to dance to his full abilities because of his injuries, but I'm glad he's participating as much as possible. He even danced a Jive with a broken toe! I did not expect that at all.
The moment that really made this night special was the kiss between Robert and Kym. These two are clearly more than just partners, and they aren't exactly denying that there is something between them. America's choice for them was overwhelmingly to incorporate a kiss into the dance, and they were happy to oblige. It also seemed to add a spark to their dance in general, which was endearing to watch. Robert may not be among the best in the competition, but his energy is fabulous.
Other Thoughts:
I'm annoyed at how much the hosts of the show continue to say Willow and Mark went home because viewers didn't vote. More to the point, there's a fundamental problem with how the voting/scoring is done for such a strong couple to go home.
There was a cute moment when Chris brought out a birthday cake for Erin Andrews, though she struggled in blowing out those candles. Happy Birthday, Erin!
What did you think of this week's episode of Dancing with the Stars, and who do you expect to be eliminated next? Share your thoughts in the comments below!
Here are this week's scores!
Noah and Sharna: Tango (31) and Salsa (32) – Total of 63
Chris and Witney: Contemporary (34) and Paso Doble (30) – Total of 64
Riker and Allison: Viennese Waltz (39) and Jazz (39) – Total of 78
Robert and Kim: Contemporary (33) and Samba (29) – Total of 62
Nastia and Derek/Sasha: Paso Doble (36) and Jive (40) – Total of 76
Rumer and Val: Rumba (40) and Paso Doble (40) – Total of 80
Ashley Bissette Sumerel was a staff writer for TV Fanatic. She retired in September 2017. Follow her on Twitter and on Google+.