JJ vows to win back Paige, Theresa works her mother to get what she wants from Brady and will Melanie leave Salem?
Our TV Fanatics Nick McHatton and Christine Orlando is joined by Stickywicket and André DiMera from MyHourglass a Days of Our Lives fan forum to debate the future of baby Tate, if JJ has any shot of winning Paige back and which character they'd like to see leave Salem and never return.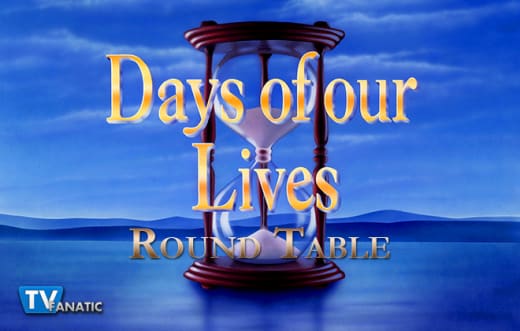 JJ vows to win Paige back. Is that even possible?
Nick: Anything is possible, but he slept with Eve. It's hard to come back from that when you sleep with your girlfriend's mom. It's not likely at all.
Stickywicket: I think anything is possible. What he did was not only cheat on Paige, but he slept with her mother, over and over and over again.
André DiMera: I very much doubt it. Though I love J.J. and Paige, and hope that they get back together again, I think too much has happened, and it just wouldn't work.
Christine: He cheated on her. He slept with her Mom! And he lied to her for months. I can't imagine that she'd ever consider taking him back but this is Salem so you never know. 
Which one character do you wish would leave Salem tomorrow and never come back?
Nick: No surprise here! Daniel Freaking Jonas. I would sing in the streets to see his boring, righteous character booted.
Stickywicket: This question is a hard one. I am looking at it from a different point of you. I think the characters on screen all great in their respective ways. We have to remember each character is two parts, the material they are given and how they creatively bring it to life on screen.
André DiMera: Serena. Why is she even here, other than to make unfounded accusations and make Eric hate Nicole more than he already does? She needs to go! 
Christine: I agree Andre. Serena has seemed useless from the beginning. She showed up as a manufactured love interest for Eric and a foil for Nicole (as though she needs another!) and has never quite fit. I only hope the show gets rid of her sooner than they did Jordan. 
How would you like to see the Theresa/Tate/Brady/Melanie story work out?
Nick: I want Melanie to get her boring self out of Salem, and I'd like to see how Brady and Theresa would attempt to be a family now that their choices affect their family. 
Stickywicket: We have known that it was not a long stint for Melanie this time. So that being said I would like to see Theresa and Brady develop/work on their relationship. Jen Lilley and Eric Martsolf have great chemistry.
André DiMera: I'd like to see Theresa move to L.A. with her parents, and she and Brady get split custody. I know that would be a bit messy, but it is possible.
Christine: Whether Melanie sticks around or not, I want Theresa and Tate to move into the Kiriakis mansion. It would certainly cause drama in the beginning but I'd hope that eventually Theresa might build better relations with Brady and maybe even Maggie. I can't imagine Victor will ever accept but anything is possible in Salem.
Should Kimberly stick around Salem or head home?
Nick: Stick around a little longer. I love blasts from the past.
Stickywicket: When Kimberly Brady is on my screen it is always a GREAT day in Salem. Patsy is very talented, hardworking, dedicated and adds so much depth to her character. She has so many wonderful fans! She is a true treasure.
André DiMera: Stick around. I miss seeing Kimberly! And I'm kind of disappointed that this return was so short! Plus, I feel she should have a few scenes with Eve and/or Paige.
Christine:  I'd love to see her stick around longer but I'm afraid that Theresa just might kill her if she did! I don't think Kim understands her daughter at all. 
Was there anything that disappointed you this week in Salem?
Nick: I'm so tired of Serena and her terrible storyline. I don't have any attachment to her, her relationship with Eric, or her smuggling diamond through a cheap elephant plight. It's such a waste of time.
Stickywicket: I have to say no, not with Kimberly Brady in Salem this week. Patsy, is great at what shedoes, her portrayal of each scene is fascinating to watch.
André DiMera: Apart from being disappointed that Kim is leaving already, I was disappointed that Theresa didn't go with her. I'm sorry, I want to like Theresa, but I just can't. 
Christine: That there was so much Serena/Xander/Nicole/Daniel/Eric. It's sad because I like Nicole but the storyline surrounding these characters is just painful. 
What was your favorite quote, scene or story of the week?
Nick: The reignited Donovan/Kiriakis feud! How long will it last?
Stickywicket: My favorite quote was by Kimberly, right before she entered the Kiriakis mansion, when she stated," Oh I can't believe I have to set foot in this man's house again!" It was the start of truly great scenes portrayed between Patsy and John. It showed a great flashback of the two of them and really brought out the "meat" of the contention between the two.
André DiMera: Kim's brief return. I loved seeing her again, and wish she would have stayed longer. I also like all of the flashbacks the show has been using lately.
Christine:  I loved that they used the history between Kimberly and Victor but I hope they continue to explore that a bit more. There were no saints in that storyline and I wish we could hear both perspectives as each tries to explain to others what happened. 
If you want to talk more about what happened in Salem last week, check out our Days of Our Lives recap and review. 
C. Orlando is a TV Fanatic Staff Writer. Follow her on Twitter.