Stalker Round Table: A Fitting Conclusion?
Paul Dailly at .
Goodbye Stalker. You were one of the better shows to premiere this season and we're all sorry to see you go!
Stalker Season 1 Episode 20 found the team trying to catch a killer, but it meant looking into Vicki's past.
Below, TV Fanatics Stacy Glanzman and Paul Dailly are joined by super fan Amy Perrin. Read on as they discuss Beth and Jack's undeniable chemistry, favorite guest stars and what they thought of the series finale.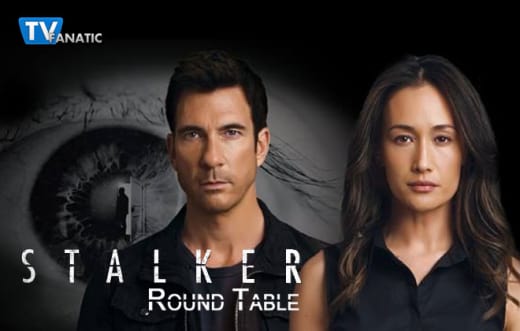 How cute are Beth and Jack?
Amy: Beth and Jack were adorable, especially Beth and the way she was looking at Jack. I loved how she made the first move on him when he showed up at her house. Their real life chemistry radiates onscreen.
Stacy: So cute! I loved all their awkward conversations at work. I agree with Amy that their real life chemistry definitely shines through.
Paul: I loved all of their scenes together. It's amazing to see just how much this relationship has developed over the season.
Who has been your favorite guest star this season?
Amy: That is a tough question because there were a ton of great guest stars this season. I am going to choose Shanola Hampton who played Pam in Love Hurts. She is in another show that I love called Shameless, and I think she is a great actress.
Stacy: I'll go with Marc Blucas as the former skinhead in "Skin." Buffy was my favorite show so I enjoy seeing pretty much anyone from it pop up in other things.
Paul: Phoebe Tonkin. Her episode was one of the best and she owned her guest starring role. I wish we saw a little more of her.
Did Vicki survive?
Amy: I am sure that Vicki will survive. The way she was fighting Nathan earlier showed that she has some serious fighting skills.
Stacy: Yeah, I am assuming she gained the upper hand and managed to take him down. She's tough and there are plenty of weapons available in a kitchen.
Paul: Probably. I wish that whole scene was cut and the show ended with the conclusion of the case and her husband was never involved. How difficult would that have been?
Grade the series finale?
Amy: I would give it a B or 4 stars. It was a decent finale, but not as good as Love Hurts. Also, it would have been better if the show ended with Beth taking down Ray. I hate that the series ended with this cliffhanger, very frustrating.
Stacy: I gave it 4 stars. The case was a little too predictable and I agree they should have ended the show with "The Woods." That felt more like a finale to me.
Paul: B. It wasn't the best episode by any means, but that could be due to the fact I knew it was our final hour with these wonderful characters.
What did you think of the case?
Amy: The case was good, but not great. I knew that Will killed Sharon, I just wasn't sure if was the serial killer. I am glad that the whole team was involved in the case, and we got to see Amanda and Trent again.
Stacy: Again, I thought it was a little predictable, but it was still a decent case. The guy in the mask was creepy and the polyamorous/sex addiction aspects made it interesting.
Paul: It was interesting, but the "shocks" it brought with it were rather predictable. I expected better because of how solid the show had been until this point.
Remember you can watch Stalker online, right here on TV Fanatic. Get caught up now!
Paul Dailly is the Associate Editor for TV Fanatic. Follow him on Twitter.