Hannibal Season 3 Episode 2 Review: Primavera
Robin Harry at . Updated at .
The slow burn continues, as Hannibal Season 3 Episode 2 revealed the fate of two more characters, Will Graham and Abigail Hobbs. Honestly, do we need to change the mantra of this show to "somebody help Jack Crawford!?"
The show is taking its time with immediate aftermath of Hannibal's massacre. We're two episodes in, and while we now know what happened to Will (whose survival was never in question) and Abigail, the fates of Jack Crawford and Alana Bloom are still up in the air.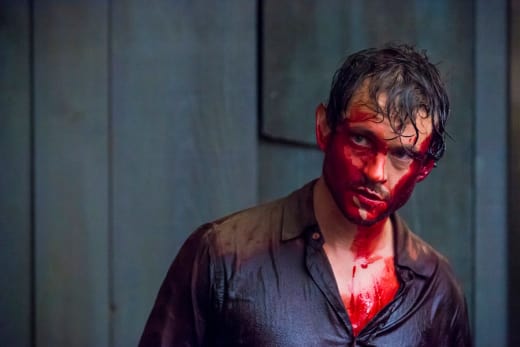 As last week, I'm quite happy with this approach. I'm very comfortable with the rising tension in my soul regarding these characters. The slow, deliberate approach gives us time to explore not only whether these people have survived or not, but who they've become, and how they've affected each other. We saw some of this with Will Graham and Abigail Hobbs.
I believed from the first scene of Abigail in Will's room that she was not real. As the episode progressed, I became more and more sure. They never touched, no one reacted to her or addressed her. When it was revealed that she died that night, I wasn't surprised.
Usually when a character has someone in his imagination, it can be argued that the imagination is part of their subconscious voice. If that was the case in this episode, it would imply that Will might have been torn between joining Hannibal and capturing him. When Abigail continued to want to join Hannibal, he decided to let that part of him go.
On the other hand, given the depth of Will's empathy, his incomparable ability to know what people have thought and felt, it may be possible that he really was just trying to keep Abigail alive as he knew she would be. For a while, at least, she was in a safe place, some other world. When Will knew that he was about to encounter Hannibal again, when his own mind was not safe, he let her go.
Will's conversation with Pazzi in the catacombs seemed to imply that his own stance on Hannibal is ambiguous. It sure feels ambiguous to me. It's still unclear what Will means, or what he intends to gain, by telling Hannibal that he forgives him.
Hannibal. I forgive you.

Will
I can honestly say that this was the episode in which I saw the darkest side of Hannibal, even though he was barely in the episode. Chief Inspector Pazzi's presentation of "Il Mostro," the Monster of Florence, chilled me to the bone. The catacombs were downright creepy and scary.
These last two episodes have dealt in depth with the question of which side of the supernatural spectrum Hannibal falls on. In Hannibal Season 3 Episode 1 last week, we were presented the idea that Hannibal is the devil, through the lens of Dante's works.
This week, the religious allusions and symbolism continued through a Biblical perspective, this time exploring Hannibal's self-perception as equal enough to God to be his antagonist. For example, Abigail reminded Will that Hannibal had gone ahead and made a place for them, quite similar to what Jesus told the disciples before He died. Not to mention when Hannibal exited a frame and the image left behind was that of God - or one of the saints - seen through a lattice shaped like the Star of David.
Hannibal's not God. Wouldn't have any fun being God. Defying God, that's his idea of a good time.

Will
In Will's eyes, Hannibal is not God, but he is capable of creation and destruction, all with elegance. Hannibal creates works of art through the destruction of human lives, both physically, mentally and symbolically. Above that, he exerts his will on Will Graham, to the point where Will is almost left with no choice but to keep chasing after Hannibal's trains of thought.
Who has Will become in all of this? Is he, as Pazzi observed, already dead inside? His retreat into the darkness certainly left us with that feeling. The last image we had of Will blurring out to black, with a red silhouette framing his upturned collar, was suspiciously reminiscent of another famously undead character.
As usual, the visuals in this episode were absolutely stunning. For all our talk of Hannibal leaving everyone in a pool of blood, we got a literal pool of blood drowning Will in the beginning. I loved the beauty of the falling paper at Hannibal's house as Will woke up in perfect symmetry with the windows.
Also, I simply have to say, the headless-corpse-Wendigo is absolutely the creepiest thing, the scariest creature and my absolute favorite thing ever to be done on this show.
OTHER NOTES
I quite like Investigator Pazzi, and I love that he shares the gift that Will has. I hope he doesn't die too soon from now. I feel like he needs a little bit of Hannibal justice too.
What happened to the pendulum?! I miss the pendulum!
There weren't really any veiled cannibalism references, so I'll go with my favorite Will Graham overt cannibalism reference:
He doesn't leave evidence. He eats it.

Will
What did you guys think? Are you okay with the slow burn? What was your favourite scene? Remember you can always relive the best moments when you watch Hannibal online.