Sex&Drugs&Rock&Roll Season 1 Episode 3 Review: Lust for Life

Sean McKenna at .
Who would have thought that the main character of Sex&Drugs&Rock&Roll would be killed off in only the third episode?
What is this? Game of Thrones?
OK, so Johnny Rock wasn't actually dead on Sex&Drugs&Rock&Roll Season 1 Episode 3, but his fake death was a funny way to get the band some attention and allow the newly formed The Assassins to rise from the ashes of The Heathens.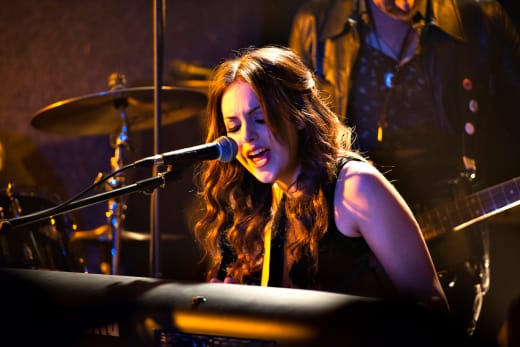 Unfortunately, all the "hippest ways to die" were taken, but the band was able to come up with an outrageous, but believable enough, story that Flash shot Johnny. I loved Rehab getting upset the shooter would be the guitarist: "So typical, why can't the bass player be the one who shoots the guy?"
Denis Leary really lets his character have it in this episode, all in good fun, of course. From Rolling Stone's tiny mention on its website, to the video pointing out Johnny was infamous for breaking up bands, to Joan Jett letting Johnny know he couldn't perform in bed, Johnny didn't quite get the memorial tribute of love and affection he probably thought he was going to get for fake dying.
It was fun seeing the "I Love Rock 'n' Roll" singer in more than just that a brief appearance for one line of dialogue.
It was still a short moment, but she did get to tell the funny story of "sleeping" with Johnny and then pep Gigi up for her big performance. The cameos don't have to be in every episode, but there's something entertaining about seeing certain rock stars pop in here and there.
I also liked how the whole fake death was orchestrated by Ira, and his plan did work, even if that meant pushing Johnny away from the limelight and Gigi closer towards it.
That said, it was nice to see some more Gigi and Johnny bonding. Watching them try and come up with a song at the start of the hour was a good way to bring them together as was that rooftop moment (what a great looking scene) about talking about her show and performing.
But that song really came into play at the end of the hour as Gigi performed the full song at the special set. I was glad we got to hear more than just a few lines and really take in the music. It would have been easy for us to just assume it was a good song or meaningful without ever hearing it.
At the same time, the lyrics really acted as their own dialogue between Gigi and Johnny, and you could tell the impact it had on Johnny especially. Their relationship is growing, and I hope to see that bond gets stronger even amongst all the humor the show is focused on.
Not to mention I like that some of the songs are being released for purchase on iTunes. It's a clever tie-in to the series.
While Sex&Drugs&Rock&Roll Season 1 hasn't blown me away, it's entertaining summer fare. And hopefully, on the ninth episode of the season, the series doesn't actually kill off a main character.
What did you think of the song sung by Gigi? Are you enjoying the series? Sound off below, and watch Sex&Drugs&Rock&Roll online for all of Johnny and crew's antics.
NOTE: Sex&Drugs&Rock&Roll Season 1 Episode 4, "What You Like Is In the Limo," airs Aug. 6 at 10 p.m.
 
Sean McKenna was a TV Fanatic Staff Writer. He retired in May of 2017. Follow him on Twitter.