Significant Mother Season 1 Episode 2 Review: Mixed Doubles

Christine Orlando at . Updated at .
Charming. That may seem an odd way to describe a comedy that's premise is about a mother sleeping with her adult son's best friend, and yet…I find Significant Mother oddly charming. 
That has a lot to do with Krista Allen, who plays Lydia (the mom), who is sexy and fun and completely adorable. Lydia isn't just Nate's mother whose hooking up with her son's roommate; she's a woman who just had a 26-year marriage crumble and is finding out who she is now that she's no longer her philandering, soon-to-be ex-husband's wife.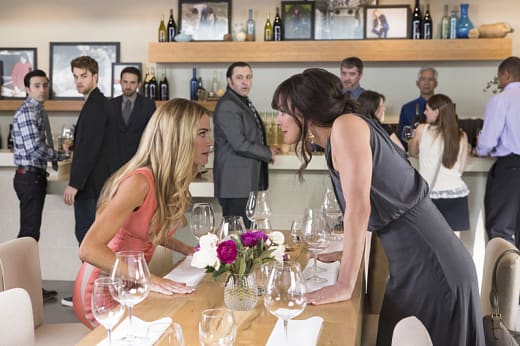 In Krista Allen's capable hands, I don't see Lydia as some sex-starved cougar, but a woman rediscovering her identity after a bad marriage. Is a relationship with Jimmy a misstep on that journey? Maybe, but we'd never get anywhere in life if we didn't risk something along the way, and Jimmy and Lydia are darn cute as they stumble through it together. 
Jimmy and Lydia have spent most of their time leading up to Significant Mother Season 1 Episode 2 cuddling on the sofa while binge watching Battlestar Galactica. What's wrong with that? Nothing, per se, but Nate thinks they haven't had a real date because they don't believe this relationship has a future. 
Part of the problem is that Jimmy, the perpetual playboy, has never taken a woman out on a real date. His history is all about the casual hookup. What's cute is how badly he wants to make Lydia happy by making this date special. What's weird is that he has to ask his best friend, aka Lydia's son, for advice. 
But Nate's got his own problems. Turns out he hasn't had sex with anyone in over a year, which just so happens to coincide with when Sam began working at the restaurant. 
It's hard to blame Nate for not knowing what to do. Well, the cyber stalking is a little creepy, but Sam is living with another guy, and she is his employee. If he asks her out, and she turns him down, that's just going to be all kinds of awkward... and he might lose some great produce from Atticus, too. 
Jimmy going to Atticus for date night advice was horribly wrong in all the right ways. The scene with the pickled cucumbers made me laugh and cover my eyes at the same time because I just couldn't watch. 
This show may ruin cucumbers for me forever. 
Despite it's inherent cuteness, the show had its down points, too. Denise Richards' Pepper, although incredibly hot, was a bit over the top; however, I suppose that was the point. 
Nate continues to come across as the weakest of the lead characters. That may be because he's simply reacting to everyone else: his mother and Jimmy, Sam and Atticus, his dad, etc.
I'll admit I enjoyed Harrison more in this episode than I did in the pilot. He also had one of the best Significant Mother quotes as he argued with Lydia as she tried to dress for her date with Jimmy.
I wouldn't over think the outfit. I mean, there's no dress code at Chuck E Cheese.

Harrison
Of course there was also that line, "Space is so hard to sexualize." I couldn't help but chuckle at that. It's an inside joke to Krista Allen fans, and if you don't already know it I'll just let you Google and figure it out. 
But for a show that's premise started around two characters having sex, it turns out this is more about relationships. Jimmy is thrilled to finally call Lydia his girlfriend. Nate secretly (not so secretly) wishes that Sam could be his, and Harrison didn't realize how much he loved his wife until she had moved on.  
Because as Jimmy says…
The only thing better than a sure thing, is the real thing.

Jimmy
Yes, Significant Mother is flawed, but it's also far more charming than I ever expected, and it makes me laugh. What more can you ask for?
Check back next week for our recap and review of Significant Mother Season 1 Episode 3 and if you can't wait until then, you can watch Significant Mother online here at TV Fanatic.
C. Orlando is a TV Fanatic Staff Writer. Follow her on Twitter.