From Dusk Till Dawn Q&A: DJ Cotrona and Zane Holtz Talk Character Tension, Plenty More

Allison Nichols at . Comments
We're only two episodes into From Dusk Till Dawn Season 2 - and already it is a crazy ride.
I had the chance to talk to DJ Cotrona (Seth Gecko) and Zane Holtz (Richie Gecko) via a conference call to discuss some of the insanity that's happened this season, like our beloved Rafa dying and Seth and Kate splitting up in From Dusk Till Dawn Season 2 Episode 2.
Holtz and Cotrona also teased what's coming up for our favorite brothers.
One of the biggest change ups this season is that Richie and Seth have been separated. It's been painful to watch, especially since Seth has turned to heroin.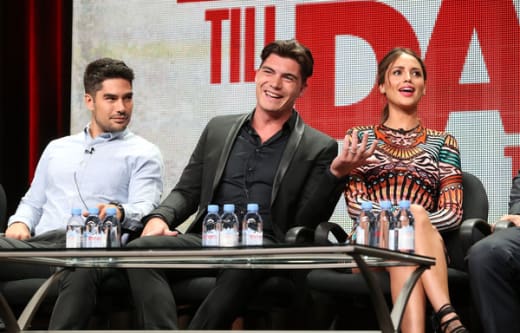 So far, Richie seems to be adjusting well to being away from his brother, and Holtz said that Richie is using this time apart to grow, "He's has always felt, not that Seth was holding him back because they were obviously very successful together as a duo, but that maybe Seth didn't give him the respect that he thought he deserved. So this is his time to not only prove to himself, but also to show Seth that his ideas do matter."
When asked what Richie meant when he said he was the dedicated Gecko, Holtz said, "Richie wants to go beyond just sort of being sort of a bank robber and wants to set up a criminal enterprise that can go beyond just heists that can have other people working underneath him."
While Richie is getting his life together, Seth is struggling. You would think it couldn't get much worse for Seth, but Kate leaving him means that "he's got nothing left."
Cotrona went on to explain, "He's at this risky point where he could just lose himself or not, and we're going to find if that happens. He's right at the edge of the cliff."
Personally, Seth and Kate has been one of the best things about season two so far, and Cotrona seemed to share the sentiment, stating: "It was the thing I was looking forward to the most for the second season, and Madison as well."
As far as Seth and Kate's relationship goes, Cotrona said, "Their relationship runs the gamut, and I think you can kinda see that. Sometimes it's father daughter. Sometimes it's mother son, where she's taking care of him. Sometimes it's, you know, partners in crime. Sometimes it's brother sister. Sometimes it's…you know, it has traces of everything."
Even though our boys are apart right now, eventually they will get back together.
We know this. There have been promos showing them in the same place at the same time. Holtz, however, remained coy about what things would be like "if and when" Richie and Seth reunite. "I'm now a culebra and basically chose to be with Santánico instead of being with Seth, so that pain is going to be there. But we'll see that, if and when they come together, it will probably be in a circumstance where they need each other, so they will have to get over that, and kind of solve the greater threat at hand."
One thing Seth will have to get over is his problem with culebras.
As we saw with Rafa, Seth can't see culebras as anything other than monsters, and Cotrona thinks it is because culebras are "the thing that destroyed [Seth]. He's a destroyed man. These creatures and their entire world are responsible for it, partly."
According to Cotrona, Seth "treats these things just as evil, demonic creatures, and it is going to be really hard, I think, for him to change his viewpoint."
Cotrona equated Seth's situation with the culebras to "going to war against a certain country or people for a very long time, and they decimate your side and your life, and then the next day kind of walking over the border shaking hands, day one after the war is over, essentially."
As far as what it means for Seth and Richie, Cotrona described Seth's viewpoint like this:"He treats it like something that happened to his brother, like a disease, like his brother was tricked."
Maybe Uncle Eddie, who makes his first appearance in From Dusk Till Dawn Season 2 Episode 3, can help mend Seth and Richie's relationship.
For Holtz, Uncle Eddie is one of his "favorite characters from this new season." Holtz noted, "People are really going to respond to seeing a little bit more of the Geckos brothers' backstory, and how their sort of family elements have shaped them."
Uncle Eddie isn't aware that Richie and Seth have split up. Holtz stated that Uncle Eddie is, "Kind of treating it as business as usual. A lot of the conversations always kind of end up going in the direction of, 'Well, how's Seth?' or, 'Where's Richie?'"
That's not all Uncle Eddie is being kept in the dark about. According to Holtz, Uncle Eddie doesn't know about "the events that happened at the Titty Twister, so to him, we're still just on the lamb. He's heard, obviously, after episode one that we've been killed, so he finds out that that's all a rouse, and he's trying to piece the puzzle together."
What do you think things will be like, "if and when"Richie and Seth reunite?"
Tune into in From Dusk Till Dawn Season 2 Episode 3 on Tuesday, September 8 to meet Uncle Eddie!
Remember you can Watch From Dusk Till Dawn Online anytime via TV Fanatic.
Allison Nichols is a staff writer for TV Fanatic. Follow her on Twitter and on Google+.