The Strain Post-Mortem: Ruta Gedmintas on Dutch's Heartbreak, Revenge For Eichorst
Jim Halterman at . Comments
[Spoiler Alert: Do not read ahead unless you've watched The Strain Season 2 Episode 12. Trust me.]
"It's really hard to watch."
That's what Ruta Gedmintas told me about The Strain Season 2 Episode 12, when Dutch goes through not one but two break-ups.
Ouch.
Reeling from her near-death experience at the hands of Eichorst, Dutch was saved by Fet - but ended their relationship knowing that she needed to return to her ex-lover, Nikki, who had recently turned up as alive. Then, however, Nikki realized it was time for her to move on and Dutch was left all alone.
In our Q&A, Gedmintas explained Dutch's decision for choosing Nikki over Dutch, how it was to shoot that break-up scene with co-star Kevin Durand and revenge may play a bit of Dutch's future since Eichorst is still out there...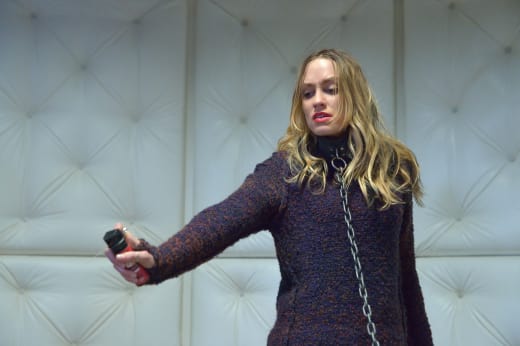 TV Fanatic: Going back to last week's episode, how hard was that to shoot those scenes with Richard?
Ruta Gedmintas: You have to get yourself into such an emotional state that you believe the circumstances so it can be quite traumatic but also they're the scenes that you hope for as an actor, the ones that really challenge you. The ones that when you read them off the page you go 'how am I going to do this? I don't know how I'm going to pull this off.' It was grueling but I had a great team and working with Richard was fantastic.
TVF: Do you think at all during those scenes that Dutch maybe was thinking 'if I get out of this, this is what I'm going to do' or did she really think 'this is it? I'm done'?
RG: No, she never thought this is it. I'm done. I don't think Dutch ever thinks that. Well the one tiny moment when she reaches the end of the hallway and she smashes into the wall and there's a moment of 'I'm at the bottom. What do I do now?'
She was coming down the stairs and there's just this moment of out of body, just panic. She still runs. he runs to one room and she runs at him. She's going to keep fighting until she gets stuck. There will never be a moment where she goes 'okay, you can kill me now.' I don't think that's in Dutch to have that.
She's always planning and working out how she can get out of the situation. She's terrified. She knows that at some point something bad is going to happen to her. She's like, 'he could have killed me by now. Something's up here. He's going to do something else.' She's scared of what he's going to do but she's aware that he has the power to kill her in an instant. So when he comes in and asks her to take off her pants there's that moment of 'just come on' and then the moment where he grabs her and says, 'Now!' That's when she's like, 'okay, this is serious.'
TVF: Moving to this week's episode, that scene with Kevin is so heartbreaking. He's saved her and he really cares for her but yet she's going to go back to Nikki. What's her thinking in that?
RG: There are people in your past that you can't shake free from no matter how hard you tried. There's a certain process that you have to go through to say goodbye. That fire doesn't get extinguished. You have to put a gun to it.
At this point, remember the two seasons happen over a period of three weeks [and] the one thing that Nikki has is history and Fet has opportunity and future and change but history is a hard thing. It's engrained in you and she's been with Nikki for a really long time off and on and she is her first love. So there is a part of Dutch that knows that Fet is probably the right way forward but it's almost a noble decision for her because she doesn't want to hurt Fet.
She knows that right now if she doesn't deal with her past and that's a number of things which will become clear in the coming episodes and seasons. There's a huge past to Dutch and if she doesn't deal with that past she's never going to be able to move forward.
That's the realization she's come to learn from the beginning of where you see her in series one to now, which is that she has to face up and take responsibility for what she's caused, what she's been through, and the people in her life. She chooses Nikki over Fet not necessarily because the love isn't there and she doesn't respect Fet. It's just that she has to finish something before she begins something else.
TVF: Thinking back when she and Fet really did take a step to sleeping together she thought Nikki was gone. If she thought Nikki was alive she probably wouldn't have even gone there with Fet, right?
RG: Yes, exactly. I mean throughout this season we were in huge discussions of making sure that the psychology was correct. Every time I read an episode I would call up Regina (Corrado, Exec Producer] and Carlton [Cuse, Exec Producer] and say, 'Talk me through this. Let me know why she's doing this because if she has this strong feeling for Nikki why would she allow Fet back in the apartment? What are these things that are going on?'
TVF: Tell me how it was to shoot that break up scene with Kevin.
RG: I love working with Kevin. I hope we continue to work together much more. We have such a good connection that we're able to play with each other. From take to take we'll give each other different things and I feel very comfortable in the knowledge that if I decide to play a line differently he'll take it and he'll react differently to me. It creates this kind of fire and this energy that you are desperate for whenever you work on scenes.
I adored doing that scene with him. It was heartbreaking because we love working together and we're like 'this might mean we won't be able to work together for a bit' or it might not. It was also the last scene that I shot of that season and I ran to get a plane from that scene, still in costume and makeup to the airport. So it was very emotional and Fet's decision to just let Dutch do what she does is because he knows her and he loves her. There's this respect and he's not going to fight in that way for her because he knows what she's going to do. He's just going to say when she's ready she'll come back. There's this sort of knowledge there, I guess. We'll see how that plays out in next season. 
TVF: Poor Dutch can't catch a break because then she goes to Nikki to say 'I want to be with you' and Nikki is like 'no, I'm gone. I'm leaving.'
RG: I know. It's awful. It's really hard to watch.
TVF: Do you think that's Dutch's karma coming back to her?
RG: Yeah, I think partly Nikki's her own woman and she's got to look after herself and I suspect that the feelings that Dutch has for Nikki are potentially more engrained in her than Nikki's love for Dutch. I mean, I couldn't say that for sure. You'd have to ask Nicola [Correia-Damude] that.
It feels as though Dutch's history and Dutch's past on a personal level means that she creates attachments very quickly and very deeply. In a weird way she has this sense of loyalty deep, deep down for Nikki. She thinks that it's the step for her to grow up and mature. 'This is what I'm going to do. I'm going to see this through. This is a good thing.' In Dutch's posttraumatic mind where her world's been flipped upside down right now and she's in a highly emotional state where she's terrified and she just needs something that feels real and whole and good.
She goes to Nikki for that and when Nikki says 'no' Dutch is like a lost puppy. We've seen her so capable and nothing much hits her and now she's got no reference point. She's got nothing to hold on to. So yeah, [the writers] were really good to me. They let me play that out in that way because we discussed that scene a lot and what Dutch's reaction would be and whether she would be incredibly fiery or whether she would have her nonchalance that she's adopted a lot in the show.. There's a moment at the end where she looks around and you see that she's lost and what do I do now? I have no home and nowhere to go. It's an interesting to see where that might take her.
TVF: Moving forward because I'm thinking Dutch might have some revenge on her mind towards Eichorst.
RG: I think she'll definitely have some revenge. [laughs] Going forward there will definitely be some kind of revenge. What form that takes I can't say. I'm pretty sure that it's not going to be typical. There will definitely be revenge for Eichorst but how long that takes and where that goes I don't know. I don't know any more than you do. I have an outline that they've given me for next season so we'll see. It looks really fun, though, and it looks to be a good one.
The Strain Season 2 season finale airs next Sunday at 10/9c on FX. 
Jim Halterman is the West Coast Editor of TV Fanatic and the owner of JimHalterman.com. Follow him on Twitter.